Aloo Paratha
Aloo Paratha is the most iconic paratha India ever created. Starting from the humble villages of Punjab, it has spread across the world as the tastiest and filling paratha ever.
My mother comes from delhi and she always made these lovely parathas for breakfast or for dinner. Since we were not an onion or garlic eating family at that time, the paratha was simple, but tasty as ever.
This paratha is available from the five-star breakfast menu to any restaurant or popular street food joint in the north of India. In fact it is a popular breakfast dish in probably all tourist destinations as that is the food that Indians can relate to easily and quickly.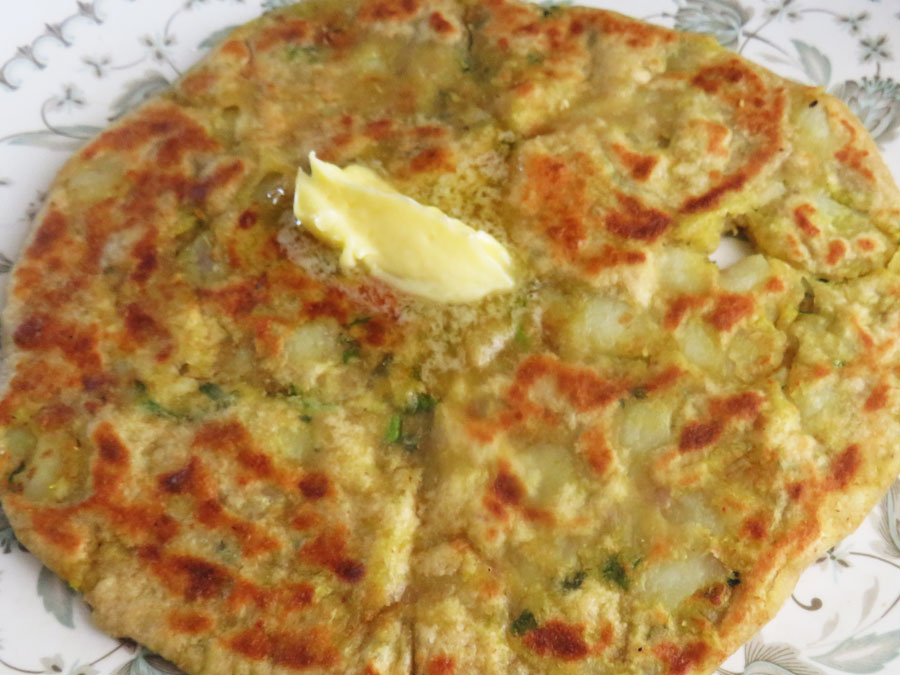 Ingredients
For the Paratha dough
2 cups of whole wheat flour

Water to knead the dough

Salt to taste
For the Stuffing
4 large boiled potatoes

1 medium finely chopped onion

2 finely chopped green chillies

Half cup of finely chopped fresh coriander

1 tsp dry mango powder

½ tsp turmeric powder

1 tbsp coriander powder

½ tsp garam masala

Salt to taste
Instructions
For the Paratha
2
Knead a soft dough, like the way we do it for chapattis or any other stuffed paratha
3
Leave it to rest for a while approx. 10-15 mins
For the Stuffing
4
Take all the ingredients in a mixing bowl
5
Mash the potatoesand mix the masalas well.
Let's make the Paratha now
7
Make about 8 equal balls from the dough
8
Take a ball of dough and roll it on a rolling pan till about 3-4 inches in diameter
9
Add a couple of spoons of the stuffing in the centre.
10
Pull the ends of the rolled paratha over the stuffing and seal it properly. Remove any excessive dough if required.
11
Make this into a ball again
12
Roll it to about 6 inches in size or to whatever best size you can manage
14
Put the rolled paratha on the tava and cook on medium heat on both sides
15
Once the paratha is cooked, increase the heat and apply some butter to the paratha on both sides and fry on both sides
16
Bring it down from the fire and serve
Notes
This paratha goes well with curd, pickles or even cholla gravy or rajma. It's a very versatile paratha, fits in with everything as much as the humble potato. But never forget to top it up with butter. Aloo Paratha without the butter is nothing. What I do is sometimes, add a tadka of finely chopped curry leaves and mustard seeds to the stuffing. It adds a different dimension to the flavour of the paratha.