Apple Asparagus Almond Salad
Salad no 3 on the Salad run and a full vegetarian salad coming up. Fruits bring a sweet taste to the salad specifically whenever the leaves you use are bitter. Apples & Almonds is a healthy combination and mixed a with a few other veggies, this is your ultimate meal replacement salad.
Let's go straight to the recipe.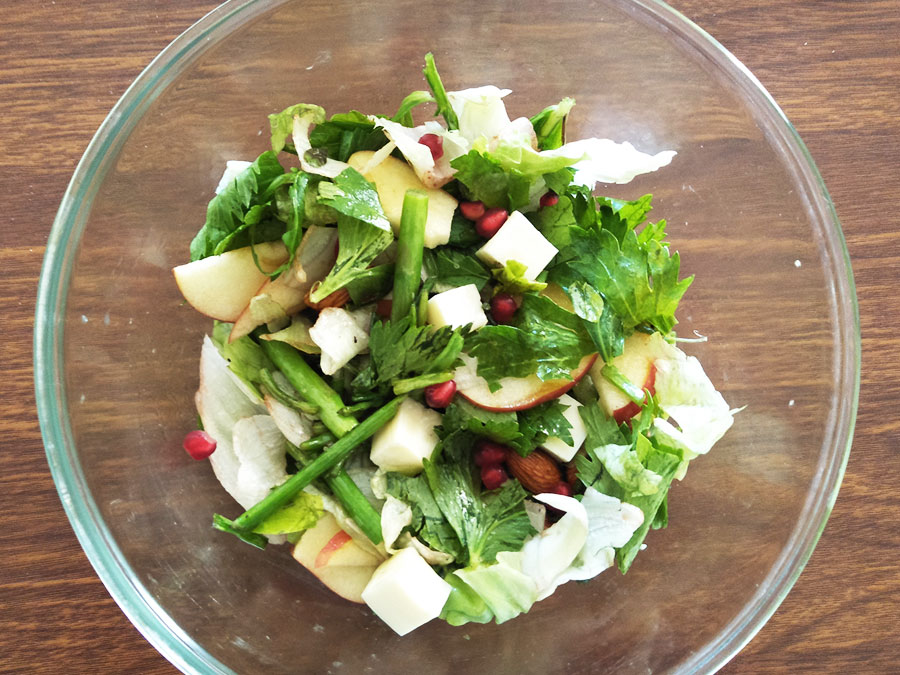 Ingredients
1 cup of washed and roughly chopped Iceberg Lettuce

1 cup of washed and full leaves of Celery

1 large red apple thinly sliced

3 cubes of cheddar cheese cut into about 18 small pieces

½ cup pomegranates

½ lemon juice

Asparagus cut into 2-inch pieces (7-8 pieces)

2 tbsp EV olive oil
Instructions
1
In a bowl, layer the apples first, pour the lime juice and mix well.
2
Layer with the greens and pomegranates.
3
In a frying pan, heat up the EVOO
4
Add the almonds and asparagus with a bit of salt.
5
Roast the same till asparagus is slightly cooked and almonds also darken a bit.
6
Pour this mixture on the bowl
7
Top with the cheese cubes and mix well
8
Apple Asparagus and Almond salad is ready to eat.