I am starting off with the sattvic section on my blog with this dish – Aur mein waangan. As I have mentioned in my previous recipes or articles, we belong to the vaishnav sect. We follow Krishna as our deity and are supposed to be pure vegetarians, avoiding onions and garlic too.
Sattvic cooking is the path to follow as per the Gita. Will talk about the Sattvic diet in another article in more detail.
Aur mein waangan is basically cooking the egg plant / brinjal in mustard seeds. Sothe advantage of this kind of cooking is that the flavours are distinct and not complex. The recipe is also simple and quick to make.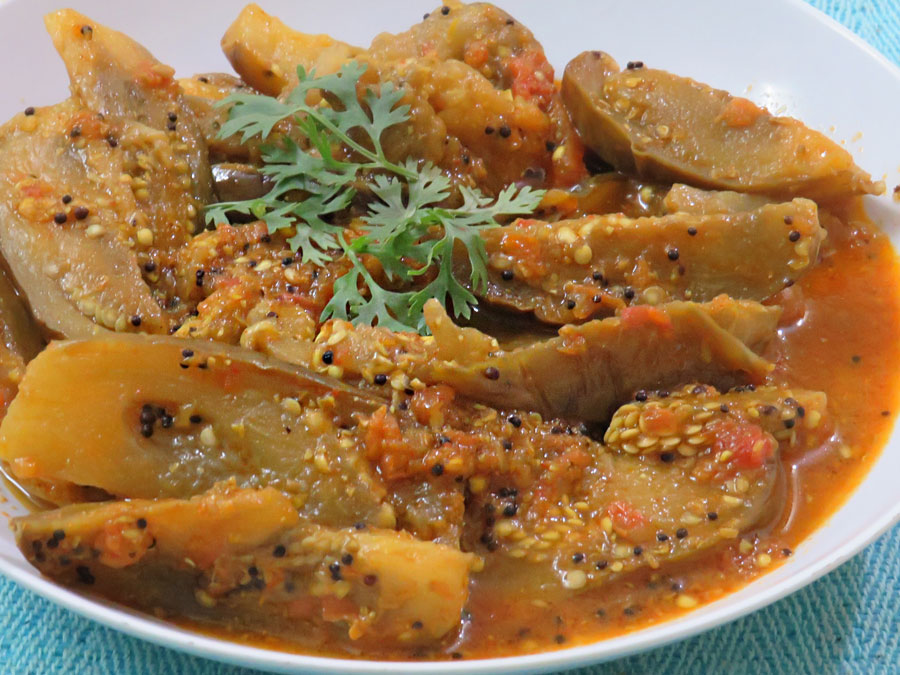 Ingredients
5-6 medium sized brinjals, cut in slices

1 large tomato blended to a puree (optional)

2 tsp Mustard seeds

½ tsp turmeric powder

1 tsp dry mango powder (use only if you do not use the tomato)

2 large tbsp Oil

½ cup water

Finely chopped fresh coriander for garnish

Salt to taste
Instructions
1
Heat a frying pan on the gas
2
Add the oil and let it heat up
3
Add the mustard seeds and sautee till the seeds flutter
4
Add the slices of brinjals
6
Reduce the flame to medium and let them cook for 5 mins, mixing them every couple of mins.
7
Add the tomatoes if you want and mix well and let it cook for another 3-4 mins.Mixing frequently.
8
If you do not want to use the tomatoes, then you could skip the previous step and just add the masalas in along with the water.
9
Add the salt and mix well.
10
Aur mein wanngan are ready to be served hot.