Basar ji khatan
We have grown up eating this pickle. This is a water-based pickle without a single drop of oil used. Has a limited shelf life but is quick to make and great to eat. There have been quite a few occasions where we ended up eating plain rice with this flavourful water and onions.
This is a common pickle in many Sindhi households. It is made with a lot of different ingredients like, onions, carrots, brinjals, lotus stem, cauliflowers etc. You can use your imagination for the ingredient you want to use in this pickle.
My personal favourite has been onions and then carrots in this pickle. Generally made in the winters but there is no stopping for it to be made anytime of the year.
Below is how my mom made this pickle.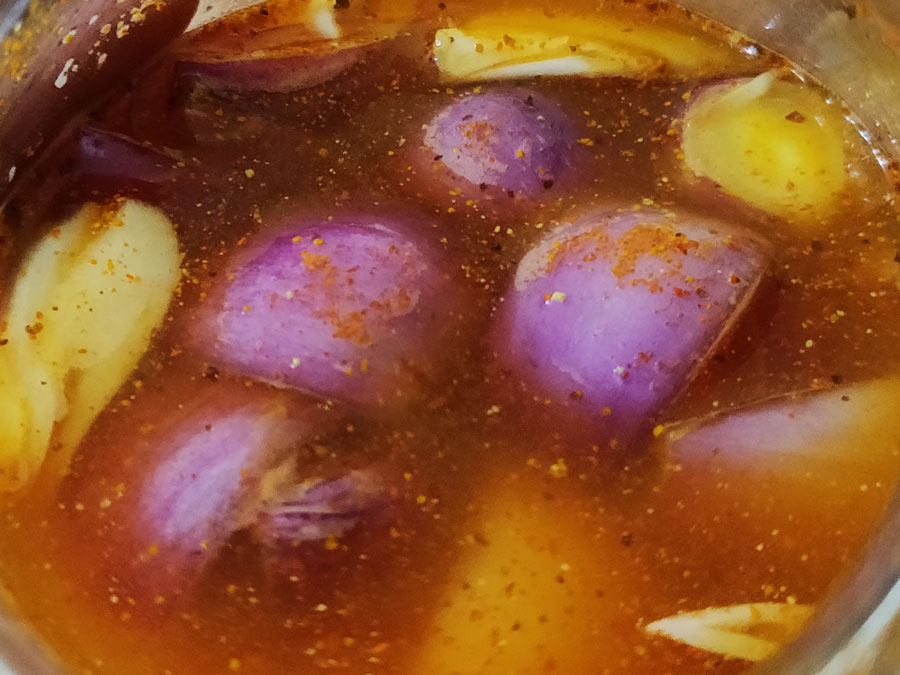 Basar ji khatan - Water based Onion - Sindhi Pickle Recipe
Print Recipe
Ingredients
2 tbsp Mustard powder (Freshly ground)

15-20 Small Sized onions

2 tsp red chilli powder

1 tsp turmeric powder

Salt to taste

3 cups of water
Instructions
1
Add the mustard powder, salt, turmeric powder and chilli powder together.
2
Add the water to it and mix well
3
Peel the onions and make cuts in them
4
Put the onions into the mixture
5
Put it in a glass jar and close tight.
6
Keep it in the sun for about 6-7 days.
7
Your pickle should be ready to eat.
Notes
Have a bowlful as accompaniment to any meal and enjoy your meals.