Boiled Chicken Rice
The cooking maid decided to take a day off today, which is not a very uncommon thing to happen. The bigger question was what my meal for the night and it would be had to be a quick fix as I was getting late from work.
So opened the refrigerator to check what was left over and see if I could use it in a quick manner to fix a meal. I had made a chicken sandwich in the morning and had some boiled chicken left over from there. Also, had some khichdi (rice + split green moong dal) left over from the afternoon lunch.
What could I do to make this worthwhile? I thought of making a real fast Biryani for myself from the two left overs.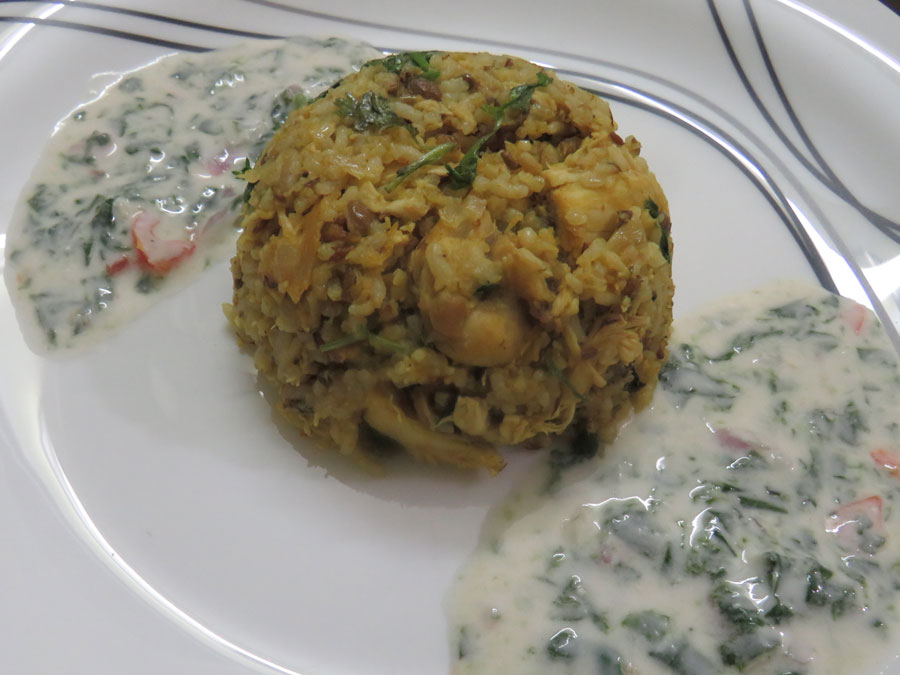 Ingredients
A large bowl of khichdi / cooked rice

2 finely chopped Green Chillies

1 medium sized sliced onions

4-5 finely chopped garlic cloves

¼ inch finely chopped piece of ginger

½ cup Chicken Stock if you have or just plain water

2 tbsp oil

Some finely chopped fresh coriander
Dry masalas
1 tsp cumin seeds

1 Bay leaf

4 – 5 cloves

4 – 5 black pepper corns

1 large black cardamom

2 small green cardamom

1 tsp Garam Masala Powder

I tsp turmeric powder

½ tsp red chilli powder

Salt to taste
Instructions
1
Put a frying pan on the gas
2
Add the oil and let it heat up
4
Add the whole garam masalas of cumin, bay leaves, black pepper, cloves, black cardamom
6
After a little bit of splutter, Add the garlic and ginger, Sautee for a min
7
Add the onions & green chillies
8
Sautee till the onions turn brown
10
Add the balance dry masalas and little salt. Maybe just a pinch (I had boiled the chicken with salt in the morning)
11
Mix well and add the chicken stock / water. Let all of it get mixed well and wait till the mix has lost a bit of water.Water should be just about the quantity where the rice does not get sticky, I think the stock is essential as the rice gets all the lovely flavours then.
12
Add the khichdi / cooked rice into the mix and let the rice absorb the stock and mix well.
13
As soon as it is a little dryer, remove it from the gas. Your quick fix biryani is ready.
14
Sprinkle the garam masala and the fresh coriander on top
Notes
What I also did was took a few fresh spinach leaves washed, cut and blanched them. Added them to a bowl of curd with finely chopped tomatoes and a single finely chopped green chilly. Some chaat masala and I had a paalak raita ready. Enjoy it with the Biryani