Bread Pakoda or typically called bread pattice here in Pune is a more sindhi snack than a Maharashtrian one. Once in almost every 15 days, we used to have dinner of assorted pakodas; Yes only Pakodas. We used gorge on them sometimes pairing them with bread or chapati and other times only pakodas.
One of the more popular variety was a bread pakoda and mom always made this for a snack or a again a full meal on its own. This dish is not for the faint hearted, it has loads of carbs, oil and spices, but it is possibly the most tastiest snack around.  So you can stop reading this if you count your calories but do continue reading if you know that you will take care of it in the run the next day morning.
The bread pakoda is a very simple dish. There are a few varieties that I like to play this around with. Basically, it is as simple as dipping cut slices of bread into a gram flour batter and deep frying them till they are golden brown in colour. Dipping them in mint sauce or tomato ketchup and in they go. IF you want to make it better then you could stuff the bread with a variety of options like potatoes mix, cheese, paneer, leftover pav bhaji, left over jeera aloo subji or whatever you get your hands on. Dip into batter and fry.Sharing the recipe for the bread pakoda stuffed with potato mix.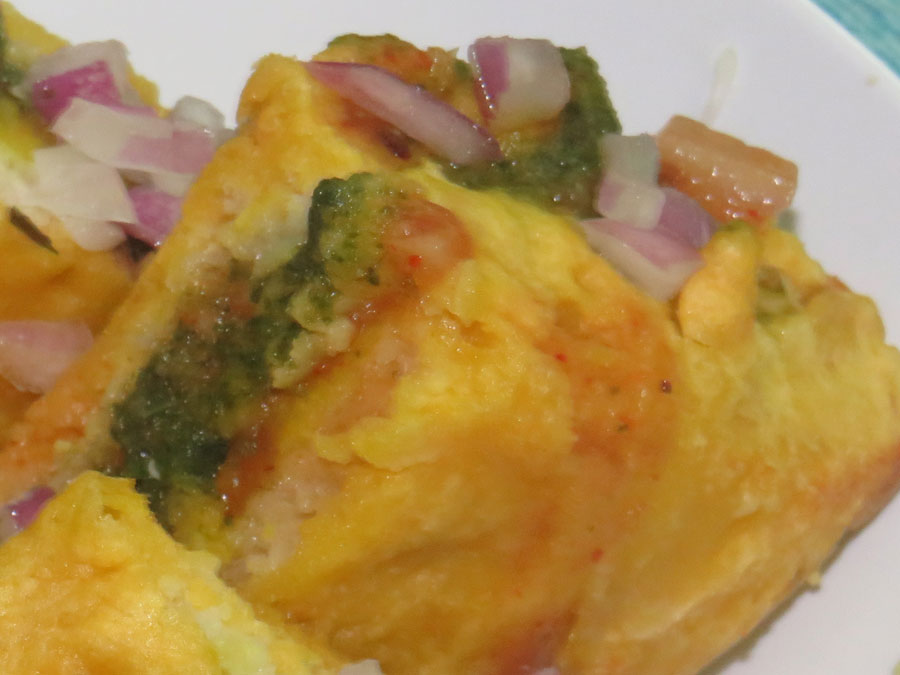 Ingredients
4 large, boiled Potatoes

4-5 Garlic

½ inch long piece of Ginger

3 finely chopped green chillies

1 tsp turmeric powder

1 tsp dry mango powder

½ tsp Garam Masala powder

1 tsp red chilli powder

Few fresh curry leaves

1 tsp mustard seeds

Some finely chopped fresh coriander

1 cup of gram flour

1.5 cups of water

1 ltr pack of oil for deep frying

1 loaf of sliced white bread

1 finely chopped onion

Salt to taste
Instructions
For the potato mix:
1
Mash the boiled potatoes in a bowl
2
Add the turmeric, ginger, garlic, green chillies, fresh coriander, dry mango powder, garam masala, salt and mix well
3
Ensure that there are no big pieces of potatoes
4
In a small tadka pan, add some oil.
5
After the oil gets hot, add the mustard seeds and curry leaves.
6
Once the crackling sound is over add this oil mix to the potato mix and mash well.
7
Your potato mix is now ready
Making the Batter
8
In a bowl add the gram flour and the water
9
Add some salt and red chilli powder
10
Mix well to ensure that there are no lumps.
11
We need a slightly thick batter so adjust the consistency in a manner that we have a batter which is equivalent to the consistency of tomato ketchup
Getting the Pakodas ready
12
Take two slices of bread. I like to leave the sides of the bread as it is, you could remove them if you like
13
If you wish you could butter both the sides.
14
Apply mint chutney on one of the sides. But this is optional, I do not do that.
15
Add the potato mix and make a sandwich of the two slices.
16
Cut the sandwich diagonally
17
Keep all the sandwiches ready before frying
18
Put the oil in the frying pan and on the gas. Switch the burner on
20
Dip the half sandwich into the batter and ensure it is coated well with the batter on all sides
21
Let this slip into the oil
22
Fry on high flame till golden brown or dark brown whichever manner you prefer.
Notes
Garnish the bread pakoda with tamarind sauce, mint sauce and finely chopped onions. Savour it with a hot soup or a cup of chai. It's a very good dish for the rains.