Broccoli Cheese Paratha
Broccoli has now started occupying the shelves of my house on a regular basis.
It is freely available in super markets or even a few road side thelas. Find out the nutritional details about Broccoli here.
Now here's a good way to consume some tasty broccoli.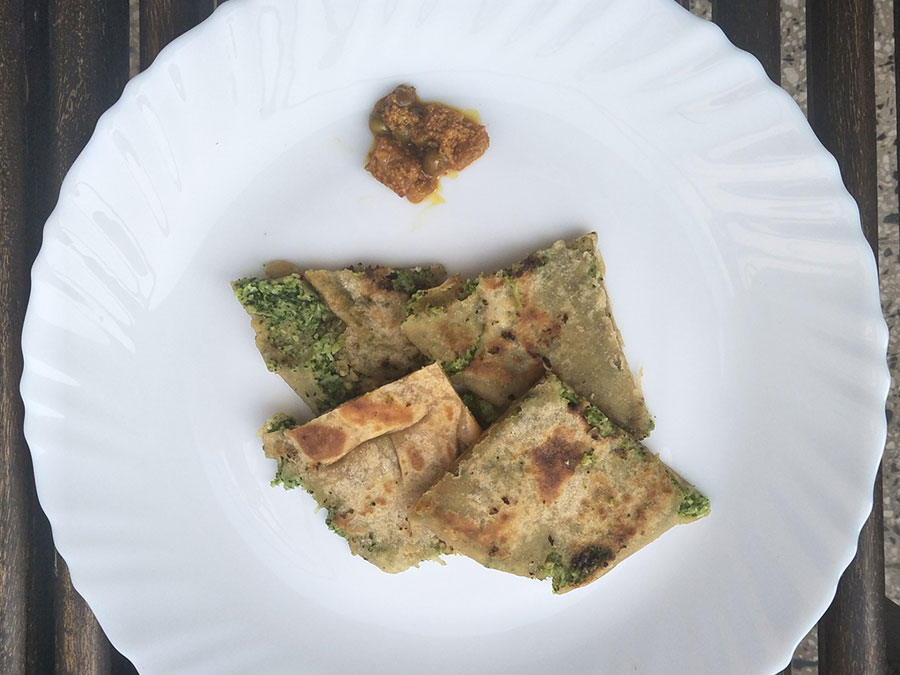 Ingredients
For the Paratha dough
2 cups of whole wheat flour

Water to knead the dough

Salt to taste
For the Stuffing
200 gms cheese grated

1 cup of grated broccoli

½ cup fresh finely chopped coriander

1 finely chopped green chilli

½ tsp black pepper

Salt to taste
Instructions
For the Paratha
2
Knead a soft dough, like the way we do it for chapattis or any other stuffed paratha
3
Leave it to rest for a while approx. 10-15 mins
For the Stuffing
4
Take the grated cheese and broccoli in a bowl
5
Mix the coriander, green chilli, black pepper
6
Add the salt and mix well
7
Your paratha stuffing is ready
Let's make the Paratha now
8
Make about 8 equal balls from the dough
9
Take a ball of dough and roll it on a rolling pan till about 3-4 inches in diameter
10
Add a couple of spoons of the stuffing in the center.
11
Pull the ends of the rolled paratha over the stuffing and seal it properly. Remove any excessive dough if required.
12
Make this into a ball again
13
Roll it to about 6 inches in size or to whatever best size you can manage
15
Put the rolled paratha on the tava and cook on medium heat on both sides
16
Once the paratha is cooked, increase the heat and apply some butter to the paratha on both sides and fry on both sides
17
Bring it down from the fire and serve
Notes
This paratha will go well with a Sweet and Spicy tomato ketchup.