Chicken and Radish Salad
First one of my salad marathon recipes. The classic chicken salad is an all time favourite. It soothes you and fills you up. Gives you enough protein and greens to make a salad a good meal with a lighter hit on your stomach.
We were never a salad household. We have eaten cut cucumbers, radish or the famous Indian Kachumber in the name of salads as kids.We also always thought that chicken was only supposed to be tandoori or then in a nice gravy with rice.
I had my first chicken salad on a date, way back in 1994. This was the first time I ate chicken which was cold.
Trying to recreate the same magic with a little bit of twist of my own. Layer of greens, chicken and radish dressed in mayonnaise and mustard.
It's a simple recipe and here it goes.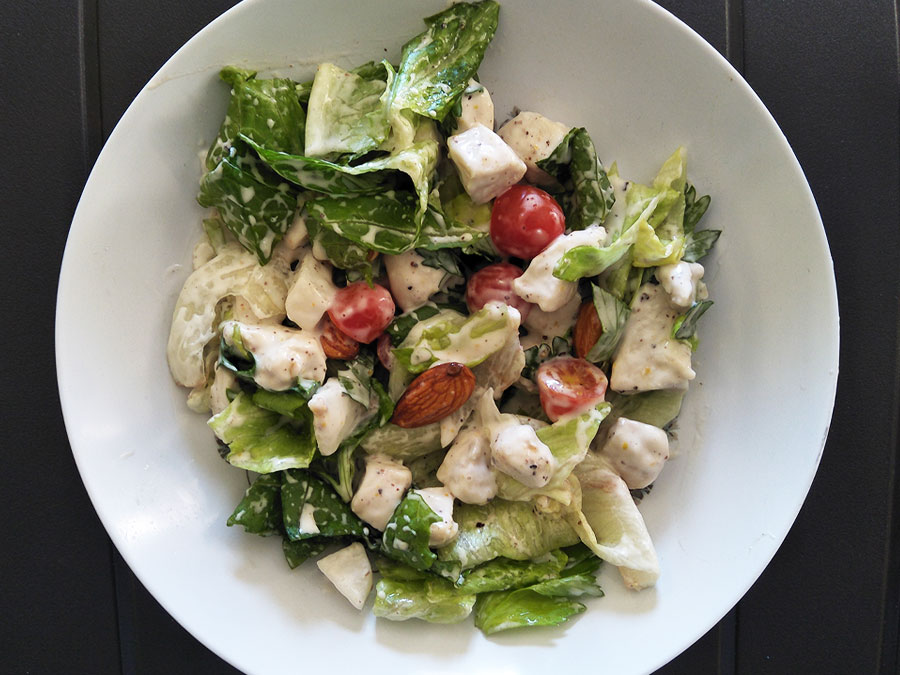 Ingredients
200 gms chicken diced and boiled. Ensure that the chicken remain cubes shaped and does not break off.

100 gms radish diced into similar blocks as chicken

4-5 cherry tomatoes, cut into half

1 cup of washed &roughly chopped lettuce

½ cup of washed &roughly chopped celery

3 tbsp mayonnaise

1 tsp mustard powder

1 tsp sugar

7-8 whole and roasted almonds

1 tbsp olive oil

Salt & Pepper to taste
Instructions
1
Take the boiled chicken and radish in a bowl.
2
Add the mayonnaise, mustard powder, sugar and mix well
3
Add the balance ingredients and toss the salad to mix it well
4
Top it up with the olive oil.
Notes
The classic Chicken salad but with radish and roasted almonds is ready. I can replace my lunch with this salad.