Chicken Kheema Sandwich Recipe
Chicken is a quick and easy meat to prepare. Gets done within minutes. And if it is chicken kheema it gets done as fast as paneer does.
Minced chicken or chicken kheema is faster to cook and when mixed with the right masalas is a treat to eat too.
Here I make an almost dry kheema to go into a sandwich.
Chicken Sandwiches are full of protein and are a complete meal. Hence these tend to be a good breakfast option. But this sandwich is a bit on the spicier side and hence not sure, if this would really go as breakfast for me. It would though be an ideal lunch or a very heavy evening snack.
This sandwich reminds me of the taste of minced meat served as street food in maidarotis or wrapped in omelettes. These are often available easily during the iftar street food outlets.
Here is my recipe for the same.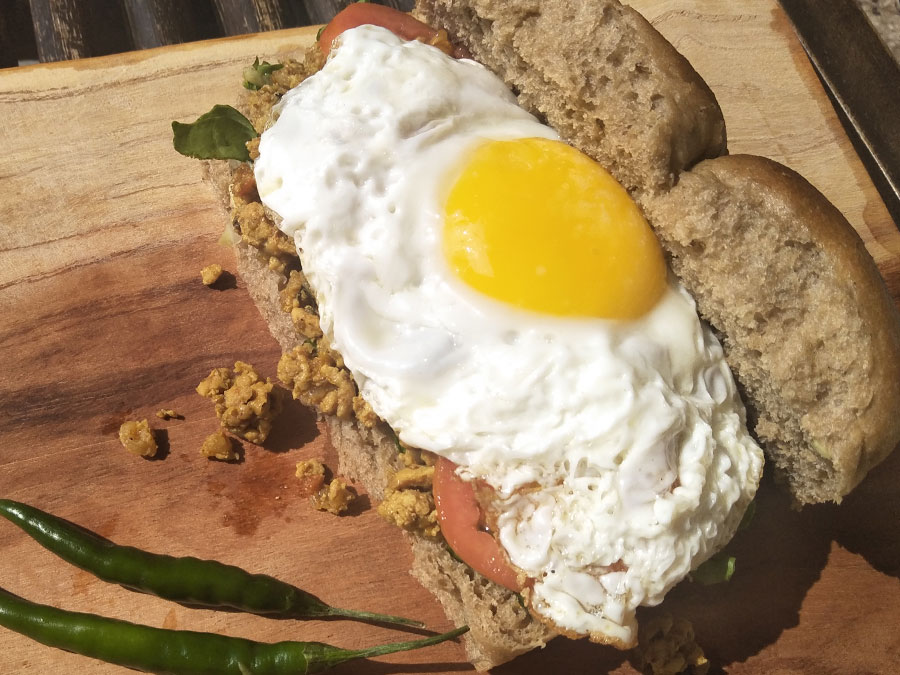 Ingredients
4 whole wheat pav

200 gm chicken kheema (minced chicken)

1largefinely chopped onion.

1small finely chopped tomato

1 thinly sliced tomato

2 finely chopped green chillies

4-5 finely chopped mint leaves

2 eggs

Few iceberg lettuce leaves

2 tbsp oil

Dry Masalas

1 tsp cumin seeds

1 tsp turmeric powder

1 tsp red chilli powder

1 tbsp coriander powder

1 tsp garam masala powder

Butter as required

Salt to taste

Some finely chopped fresh coriander
Instructions
1
Put some oil in a frying pan
3
After they flutter a bit, add the onion and green chillies
4
Saute the onions till transparent
5
Add the tomatoes and saute till cooked
6
Add the turmeric, coriander powder, red chilli powder and mix well
7
Add the chicken kheema and mix well
9
Add the finely chopped mint leaves
11
Cook covered for 5-7 mins
12
Sprinkle the garam masala and the fresh coriander and mix well again.
13
Chicken Kheema is now ready
14
Cut and warm the pav a bit on a non-stick plate.
15
Butterthe sides of the pav
16
Layer the pav with the lettuce first
17
Second layer should be of the kheema
18
Layer that with thin slices of tomato.
19
Make a sunny side up egg and place the egg on top of the tomato slices.
20
Close the pav and let the yolk run out.
Notes
Serve it with raw green chillies, if you like more spice.