Chicken Liver Sandwich Recipe
It has taken me time to appreciate the taste of the Kaleji or Liver of either chicken or mutton. I earlier used to leave the pieces of Liver for my dad to finish them off. He loved chicken or mutton liver. Over a period, after I started cooking and experiencing the various spices it can be cooked in, the taste started settling in.
Liver has a very distinct taste to it so just a little bit of salt and a spicy sauce hits the right notes on your tongue.
I attempt to make an Indian-ised Chicken Liver Sandwich.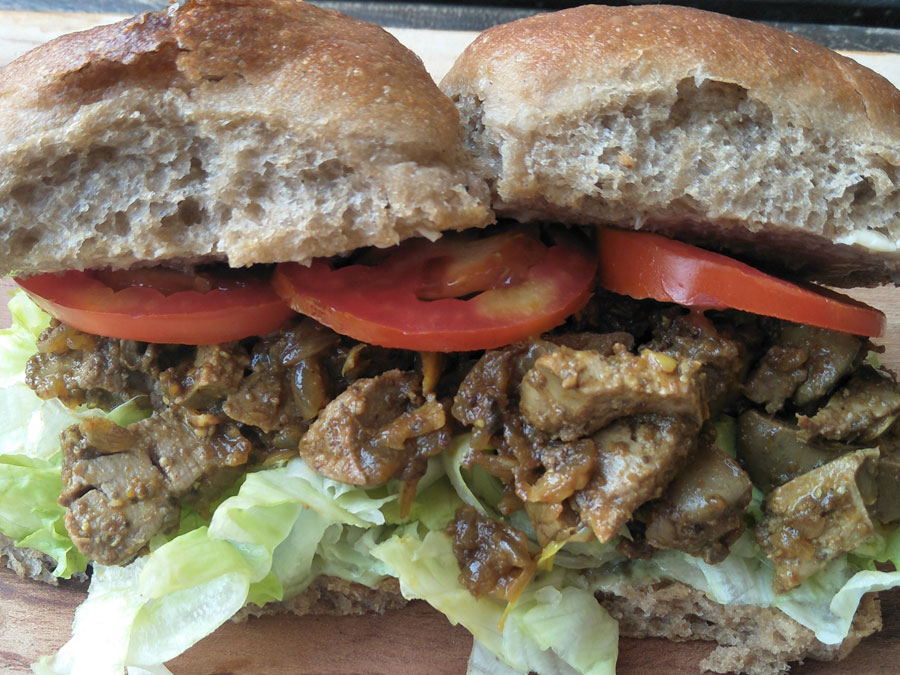 Ingredients
4 whole wheat pav

200 gms chicken liver

For the marinade:

Salt to taste

1 tsp red chilli powder

1 tsp turmeric

1 tbsp coriander seed powder

5-6 garlic cloves mashed

1 tsp garam masala

Juice of half a lemon or 1 tbsp vinegar
For the stuffing:
Butter as required

Some iceberg lettuce

Mint Mayonnaise

Sliced tomatoes

Other ingredients

1 medium finely chopped onion

2 tbsp oil
Instructions
1
Wash and clean the chicken liver
2
Add the salt, dry masalas, garlic and lemon
4
Leave the marinated chicken liver aside for a couple of hours preferably in the refrigerator.
5
Heat up a pan with oil and add the onions
6
Sautee the onions till transparent and add the chicken liver
7
Cokk for 7-8 mins till the chicken liver is cooked.
8
Once done cut the liver into bite sized pieces.
11
Spread the min mayonnaise
12
A layer of roughly chopped lettuce
13
Layer it with the cooked Chicken Liver
14
Top it with a layer of sliced tomatoes
Notes
Serve it with a red chilli sauce or a spicy garlic based red chilli ketchup or for that matter a green chilli chutney.