Daal Dhebri is a complete breakfast itself. A paratha stuffed with split moong daal is a complete combination of carbs and protein mixed to provide a healthy breakfast. It is one of those routine dishes which although are strikingly simple, different and tasty.
This earthy dish goes well with a bowl of curd or some mango pickle.
We will go straight to the recipe then.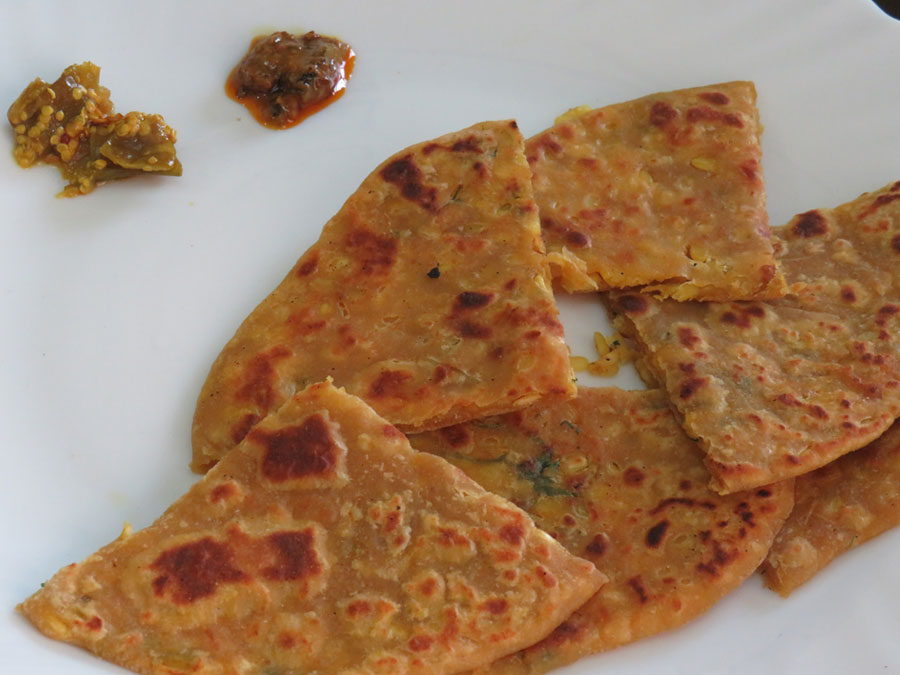 Ingredients
1 cup of split and washed yellow moong daal

½ inch grated ginger

2-3 finely chopped green chillies

1 tsp red chilli powder

1 tsp dry mango powder

½ tsp garam masala powder

Some finely chopped coriander

Salt to taste

Soft Whole wheat dough
Instructions
1
Soak the moong daal for 3-4 hours or overnight (as this is generally had for breakfast)
2
Put the daal in the cooker, with a little bit of water, enough for two whistles. Add some salt
3
Switch of the cooker after 2 whistles and let the cooker open on its own
4
The daal should be cooked but should still be separate. If you eat the daalat that moment out of the cooker, it will have a bite and should not be a paste.
5
Strain the daal of any water
6
Put the dry daal into a bowl
7
Add the ginger, green chillies red chilli powder, dry mango powder, garam masala powder and fresh coriander
8
Make 8 balls out of the dough and divide the daal mixture also in 8 equal parts
9
Roll the ball into a chapati and pick one part of the daal mixture and place it in between the rolled chapati
10
Pull the ends of the chapati to the top and cover the daal mix completely.
12
Roll the now stuffed balls into a chapati, like we do it in all stuffed parathas.
13
Put the rolled paratha on a hot tawa and cook on both sides till the paratha is cooked well
14
Now, pour a tsp of oil on both sides of the paratha and fry a bit. It will also give a shine to the paratha.
Notes
Serve your parathas hot with a bowl of yogurt or some mango pickle