Desi Chinese Sandwich Recipe
Desi Chinese is a concept which has been working since quite a few decades. It is the Indianised version of Chinese food that has caught the fancy of the Indian street food market. In factit has become so popular now that it is now possibly a cuisine in itself.
Schezwan is what the Indians like a lot and a company called Chings Chinese has a bottled version of something called the schezwan chutney and a separate schezwan sauce. This is a spicy red sauce which all Indians like influenced from the schezwan region in China. It has loads of garlic and red chilly to cater to the Indian taste.
This sandwich is created using the same chutney and a few veggies very often used in Chinese cuisine with a dash of mayo put in.
It's one simpler sandwich but high on taste for an evening snack. Here is my recipe for the same.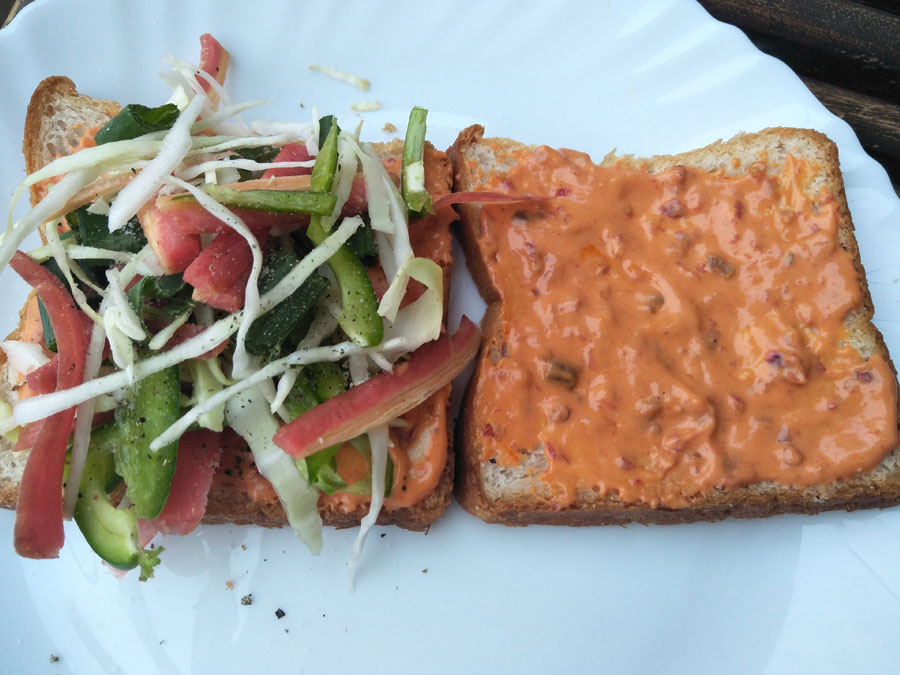 Ingredients
4 Slices of bread

1 cup of chopped Cabbage

½ cup of chopped carrots

½ cup of chopped capsicum

½ cup of spring onions

2 tbsp of plain mayonnaise

3 tbsp of Schezwan chutney

Pinch of salt

Black pepper

Butter
Instructions
1
Mix the mayo and schezwan chutney to make a smooth spread
2
Chop the veggies in long thin pieces, mix and keep
4
Spread the Mayo and schezwan chutney mix on both slices of bread
5
Add a good amount of the veggies
6
Sprinkle with some salt and pepper
7
Grill the sandwich in a sandwich press till the rawness of the veggies is gone. It will be a nice crisp outside and soft inside sandwich.
Notes
Serve it with some hot chai and chips. Kids will love this sandwich