Grated Yam / Suran Curry
Yam (elephant's foot) or Suran is a vegetable which goes off as veg meat. As a kid, mom used to always pass off Soya chunks and Yam as meat to us.
Suran is full of health benefits and hence needs to be a part of regular diet. It is similar to a sweet potato but much larger and very different in taste. It has health benefits for skin, hair etc. I will leave the technicalities of the healthiness to the doctors. Let's enjoy what the veggie gives us the most is a unique flavour which blends and still stands apart from the mix it is in.
We use suran in a multiple variety of ways, we make cubes or grate or mince it to make a curry. We slice it to make chips or cut it into the shape of French fries and fry them. Yam goes well in a mix of veggies and specifically with green peas and potatoes.
Here I share a recipe of Grated Yam (almost mince) with potatoes. This was a very common dish I used to carry to office sometime back. Chitra reminded me of the same a few days back on facebook and thought would write about the same.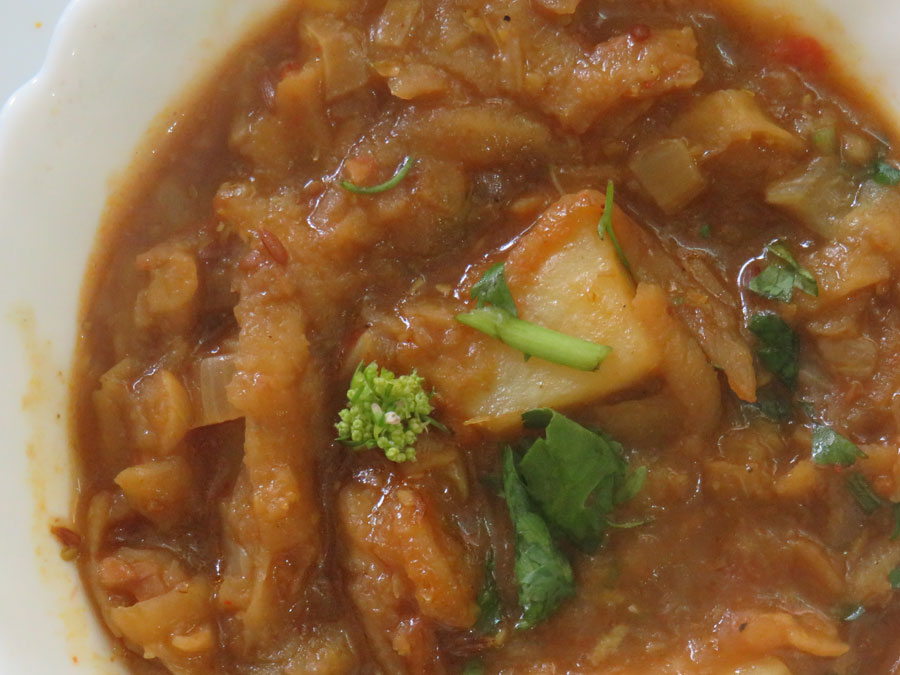 Ingredients
250gms Suran (grated)

250gms Onions (2 large onions) , finely chopped or made a paste in the mixer

2 large potatoes, cut into large pieces

1 tomato, finely chopped or paste in the mixer

3-4 green chillies, finely chopped

7-8 garlic pods

1-inch Ginger

2-3 tablespoons of oil

2 cups of water
Dry masalas
2 Tejpatta

1 large cardamom (black)

2 tbsp coriander powder

4-5 cloves

1 inch stick of cinnamon

1 tsp cumin seeds

3-4 black pepper corns

1 tsp ground home made garam masala
Instructions
1
Grate the Suran and keep it in water
2
Pour the oil in a pressure cooker and heat the oil
3
Add the Dry Masalas to the oil (except for the coriander powder and garam masala)
4
Let the masalas splutter a bit
5
Make a paste of Ginger & garlic & chillies
6
Add the onions to the oil and start sautéing
7
Add the Ginger, garlic & chilli paste and continue mixing
8
Cook this mixture by continuous mixing till the time the onions are brown and start separating from the oil
9
Add the tomatoes to this and start mixing again
10
Cook till the oil separates and the colour is a good dark brown.
11
Add the potatoes, stir them a bit
13
Cook the two together in the mixture for 2-3 mins
14
Add the coriander powder and turmeric and mix well
15
Add the water, mix it well, add the salt and ground garam masala
16
Pressure cook the mixture for 2 whistles (grated yam does not really need a lot of cooking)
17
Let the pressure release from the cooker on its own. Once the cooker opens garnish with chopped fresh coriander.
Notes
Goes well with hot phulkas on the plate and some mango pickle on the side