Grilled Chicken Toasted Sandwich Recipe
Grilled Chicken is one of the most favourite snacks around the world. When Marinated well, grilled chicken stands out as a crowd puller in a party.
It also goes well when stuffed into a sandwich. The art of grilling chicken is which part of the chicken to use, what ingredients to marinate and grilling it just enough.
There are multiple marinates I like to use, starting with one of them which is subtle, flavourful and surely fills your stomach.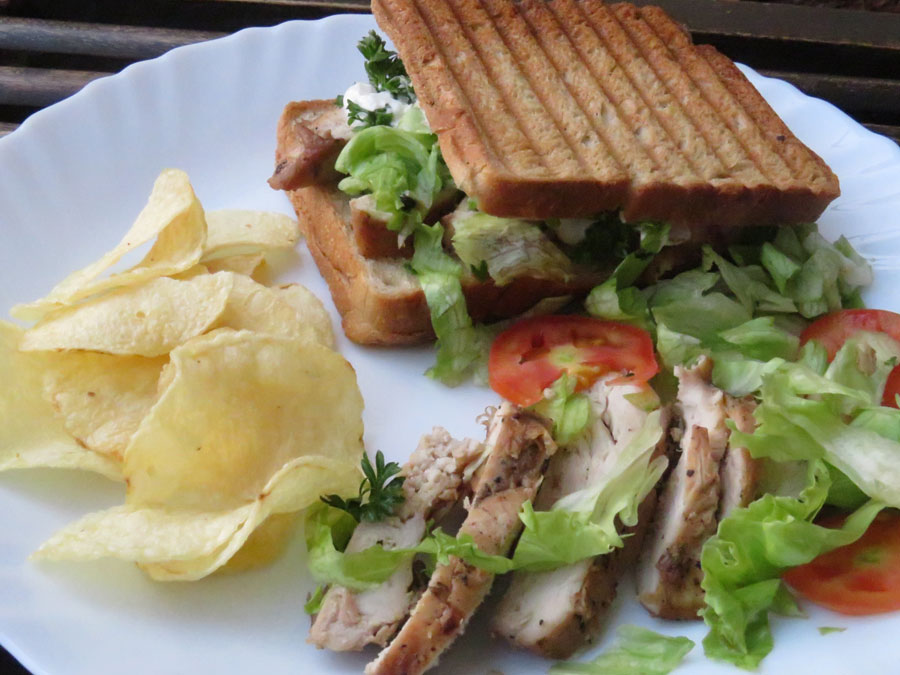 Ingredients
8slices of Brown bread

½ breast of chicken about 150 gms

For the marinade:

1 ½ tsp soy sauce

4 cloves of garlic

½ tsp crushed black pepper

1 tbsp olive oil

Salt per taste

For the stuffing:

Butter as required

Some iceberg lettuce

Parsley

Mayonnaise

Ground Black pepper straight from the mill
Instructions
1
Wash and clean the chicken breast
2
Add the soy sauce, salt, crushed garlic cloves, crushed black pepper and the olive oil.
3
Mix well and apply to the chicken breast.
4
Leave the marinated chicken aside for a couple of hours preferably in the refrigerator.
5
Pre-heat the oven at 200 deg
6
Add the chicken breast and cook it on the same temperature for 15 mins.
7
Once done cut them into bite sized pieces. Small pieces are easier to eat in a bite of a sandwich.
8
Toast the slices of bread to a nice dark brown. I toasted the bread in a grilling machine or a sandwich press.
9
Butter the slices of bread
10
Place the pieces of the chicken on the buttered bread
11
Spread the mayonnaise and chopped lettuce and parsley
12
Sprinkle some black pepper powder.
13
Cover it with another slice
Notes
Serve it with salad, fries or chips and Ketchup if you like. Another crisp outside soft inside sandwich. But there are a few which I do not like toasted or grilled. Coming up in the next few days.