Hakka Noodles Paratha
Left overs just need imagination. My daughter wanted a paratha for breakfast and I was not prepared with any vegetables to stuff it with.
Hunting the fridge down realised there was a bowl full of hakka noodles left over from the previous afternoon. And there was the idea.
The noodles had to be mashed to make a paste. We make the noodles with just enough flavours and not the indianised high on schezwan sauce. Hence, realised that the noodles may not add too many flavours in the paratha. I then decided to add some mayo and some additional red chilli sauce. So red chilli sauce it was. And then we had some a Hakka Noodles Paratha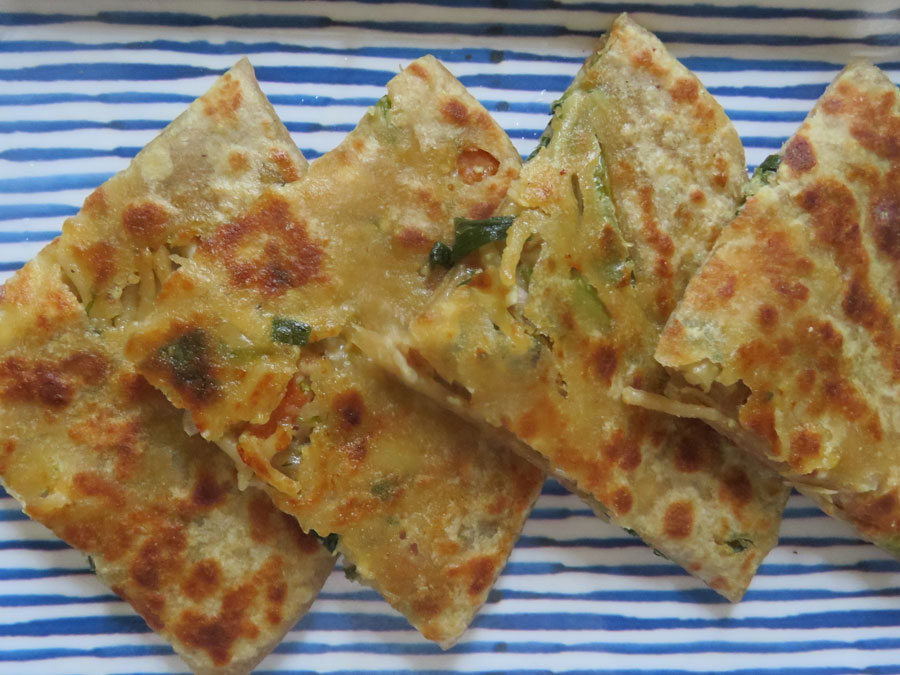 Ingredients
Whatever noodles are left over
For the Paratha dough
2 cups of whole wheat flour

Water to knead the dough

Salt to taste
For the Stuffing
Left Over hakka noodles

2 – 3 tbsp of Mayo

1 tbsp of Red Chilli Sauce

Salt to taste
Instructions
For the Paratha
2
Knead a soft dough, like the way we do it for chapattis or any other stuffed paratha
3
Leave it to rest for a while approx. 10-15 mins
For the Stuffing
4
Take the noodles in a mixing bowl
5
Mash the noodles with a masher till noodles are broken into bite sized pieces.
6
Add the mayo and red chilli sauce
Let's make the Paratha now
8
Make about 8 equal balls from the dough
9
Take a ball of dough and roll it on a rolling pan till about 3-4 inches in diameter
10
Add a couple of spoons of the stuffing in the center.
11
Pull the ends of the rolled paratha over the stuffing and seal it properly. Remove any excessive dough if required.
12
Make this into a ball again
13
Roll it to about 6 inches in size or to whatever best size you can manage
15
Put the rolled paratha on the tava and cook on medium heat on both sides
16
Once the paratha is cooked, increase the heat and apply some butter to the paratha on both sides and fry on both sides
17
Bring it down from the fire and serve
Notes
This paratha goes well with Ching's Schezwan chutney available in the Indian markets.