Hummus & Chicken Sausage Sandwich Recipe
Hummus is used in the middle east as a dip or spread with various meals. It's a healthy and tasty mix of chick peas, tahini (sesame paste). I added a few more ingredients to make this hummus a little more flavourful.
Hummus generally goes well with grilled chicken or grilled meat for that matter. It goes well in a shwarma too, with pita bread and grilled chicken stuffed into it with other veggies.
It's a very simple thing to make and keep for a few days to use it as a dip for French fries too.
Here is my simple recipe of the hummus and then the sandwich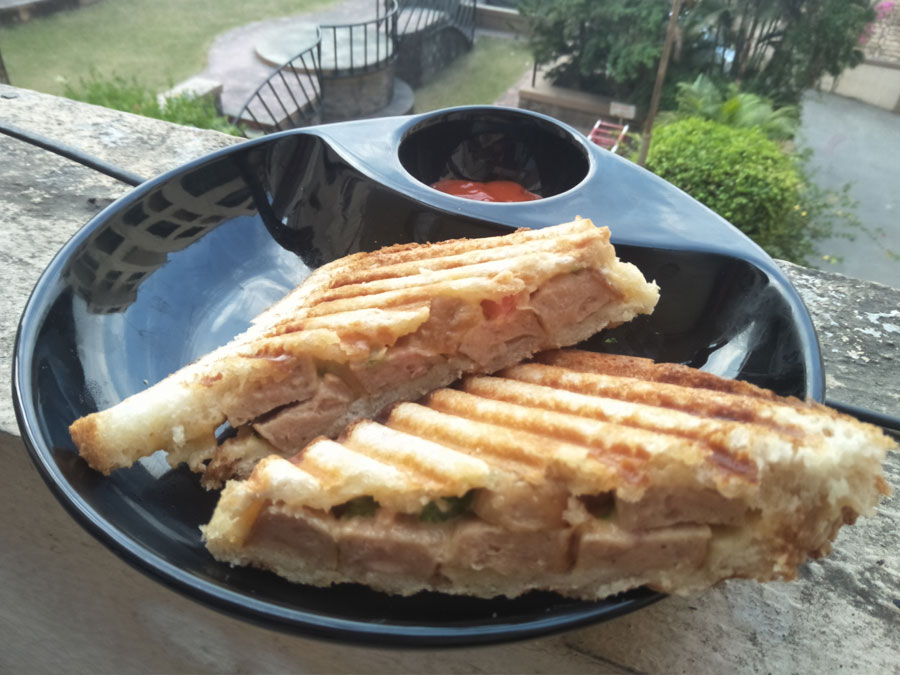 Ingredients
For the Sandwich
8 Slices of bread

Butter as required

Chicken Sausages from the market

1 large tomato thinly sliced

½ tsp of red chilli flakes

4 cheese slices cheddar (I did not have feta, else would have used Feta)

Some greens like celery & parsley

Butter as required
For the hummus
½ cup of chick peas soaked over night

Juice of ½ a lemon

2-3 garlic pods

1 tbsp olive oil

1 tsp cumin seeds (did not have tahini nor sesame seeds)

1 green chilli

Salt to taste
Instructions
Hummus Preparation
1
Wash & Soak the Chick peas overnight
2
Put the chick peas in a blender. Add the garlic, cumin seeds and chilli
4
Blend till it becomes a complete paste, you can add some water to get the consistency of mayonnaise.
7
Move the paste to a bowl and pour the spoon of olive oil on top
Sandwich
8
Shallow fry the sausages in a non-stick pan with a little bit of olive oil
9
Cut them into bite size pieces
10
Roughly chop the Celery and Parsley
11
Spread some butter on the slices
13
Layer first with the sausage pieces
15
Cover it with a layer of thinly sliced tomatoes
16
Add the cheese slice if you like
18
Grill it in a sandwich press.
Notes
Serve this sandwich with chilli ketchup or some mint leaves. I did not have French fries today but would have liked to fry some of those and added it as a layer in the sandwich. Excellent brunch sandwich this one is.