Kat Pai Dhebri
Kat Pai Dhebri is a very unique dish in a Sindhi household. I am not sure how many people actually take the effort of converting the bitter gourd into a paratha.
Bitter gourd is not liked, simply because it is bitter in taste. This is carried forward in generations after generations. But, for me it is one of my favourites. I could have it at least twice in a week in different preparations.
Although not very tasty but the karela has its benefits and Karela juice is recommended by a lot of Ayurvedic / Yoga practitioners for a healthy life.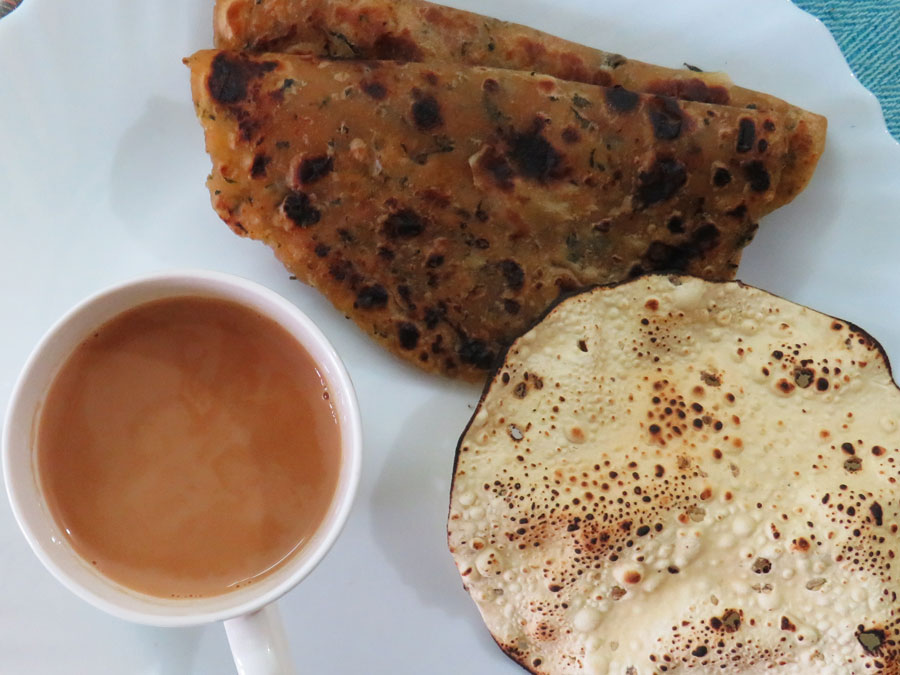 Ingredients
For the Paratha dough
2 cups of whole wheat flour

1 cup of scraped bitter gourd skin. It may take 4-5 large karelas to get the required quatity

½ tsp turmeric powder

1 tsp black pepper powder

1 tsp dry mango powder

1 tsp red chilli powder

Water to knead the dough

1 cup of Oil for deep frying

Salt to taste
Instructions
Getting the bitter gourd ready
1
Soak the Scraped skin of karela in salt water for a couple of hours
2
Squeeze the water out of the skin completely
3
Deep fry the scraped skin in frying pan. It should become crispy
For the Paratha
6
Add all the paratha ingredients to it, including the fried karela skin.
7
Knead a soft dough, like the way we do it for chapattis or any other stuffed paratha
8
Leave it to rest for some time.
Let's make the Paratha now
9
Make about 8 equal balls from the dough
10
Take a ball of dough and roll it on a rolling pan till about 5-6 inches in diameter
12
Put the rolled paratha on the tava and cook on medium heat on both sides
13
Once the paratha is cooked, increase the heat and apply some butter to the paratha on both sides and fry on both sides
14
Bring it down from the fire and serve
Notes
This paratha is good on its own. I love this paratha with an omelette or a sunny side up. It goes well with curd or pickle or hot tea as well.