Methi paratha stuffed with Paneer Cheese
It is a rocking combination. The bitterness of the methi and the sourness of the cheese compliment each other well.
I have been experimenting with food since a very long time and this I believe is one of my genuine creations. I have never eaten this combination anywhere nor have I seen it on any of the cookery shows or blogs. Methi paratha or thepla comes from Gujarat and is a wholesome, healthy and a quick meal. Combine it with cheese it gives you the protein component too.
My family does not really like methi and I love methi. This recipe changed my family to love the methi paratha and it is a regular in our breakfasts now. I have a done a few changes in the traditional Thepla recipe. I also like adding paneer to my cheese to give the stuffing a better body. Follow the recipe under here for a delicious Methi paratha stuffed with Paneer Cheese.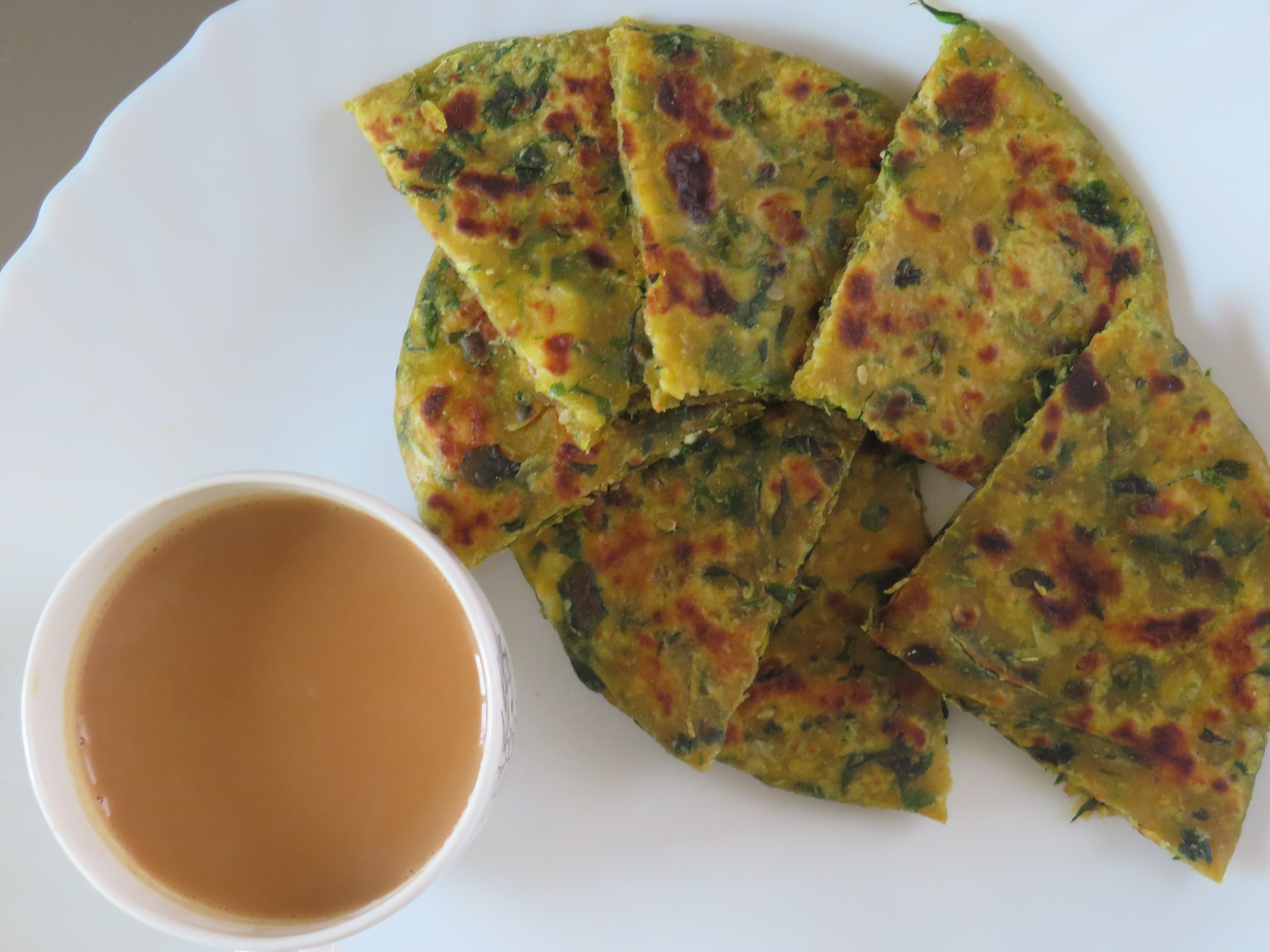 Ingredients
For the Paratha dough
2 cups of whole wheat flour

1 cup of washed and cut methi

3-4 cloves of garlic mashed

½ inch ginger mashed

2 green chillies

½ tsp turmeric powder

1 tsp red chilli powder

½ tsp garam masala

Water to knead the dough

Salt to taste
For the Stuffing
100gms paneer grated

200 gms cheese grated

½ cup fresh finely chopped coriander

1 finely chopped green chilli

½ tsp black pepper

1 tbsp cumin powder

Salt to taste
Instructions
For the Paratha
2
Add all the paratha ingredients to it
3
Knead a soft dough, like the way we do it for chapattis or any other stuffed paratha
4
Leave it to rest for a while approx. 10-15 mins
For the Stuffing
5
Take the grated cheese and paneer in a bowl
6
Mix the coriander, green chilli, black pepper, cumin powder
Let's make the Paratha now
8
Make about 8 equal balls from the dough
9
Take a ball of dough and roll it on a rolling pan till about 3-4 inches in diameter
10
Add a couple of spoons of the stuffing in the center.
11
Pull the ends of the rolled paratha over the stuffing and seal it properly. Remove any excessive dough if required.
12
Make this into a ball again
13
Roll it to about 6 inches in size or to whatever best size you can manage
15
Put the rolled paratha on the tava and cook on medium heat on both sides
16
Once the paratha is cooked, increase the heat and apply some butter to the paratha on both sides and fry on both sides
17
Bring it down from the fire and serve
Notes
This Methi paratha needs no accompaniments. It is good on its own. The feeling this paratha leaves on your tongue is of "One more bite will do" .