Mushroom and Egg Salad
Mushrooms are my favourite food in all sorts of dishes. I do not get to eat much of them, as my wife does not appreciate the taste of mushrooms. I also believe that the taste of mushrooms is an acquired one.
If you have not had mushrooms from childhood, it's difficult that you may like it after you grow up. But, frankly its more of an individual perspective.  I can eat almost anything 😊
Layer of greens dressed in sautéed mushrooms and boiled egg is what my salad for today.
It's a simple recipe and here it goes.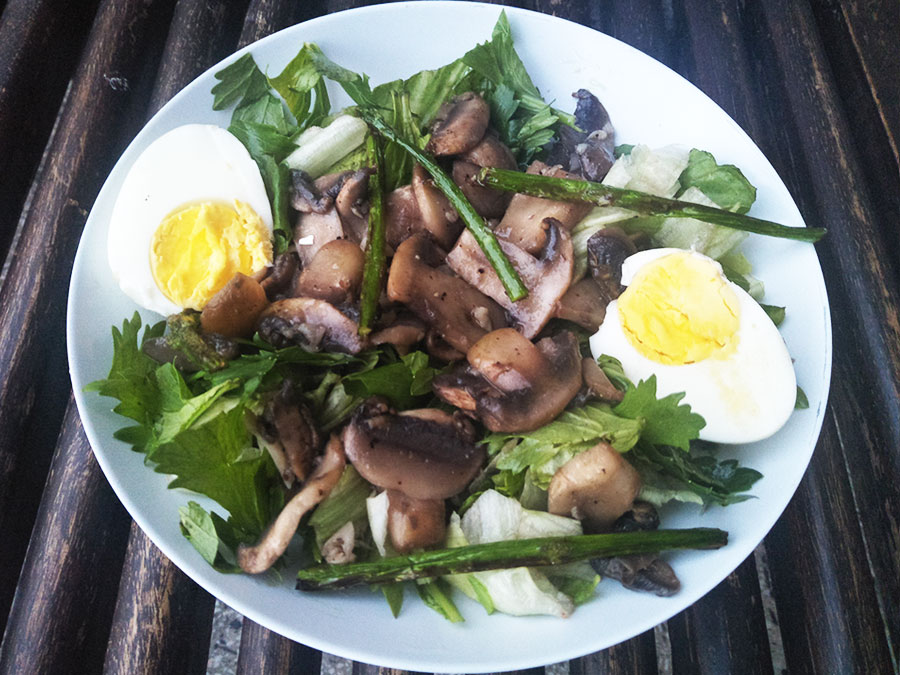 Ingredients
5 – 6 large button mushrooms washed & chopped

1 hardboiled egg

1 cup of washed &roughly chopped lettuce

½ cup of washed &roughly chopped celery

2 cloves of garlic

2 tbsp olive oil

Salt & Pepper to taste
Instructions
3
Add the olive oil to the pan
4
Crush the garlic and add that in
5
Add the chopped mushrooms
6
Sauté for just about 45 secs – 1 min
7
Sprinkle a bit black pepper
8
Pour this on the salad evenly so that the oil just about wilts the greens a bit.
9
Cut the boiled egg into half and place them on the salad.