Mushroom Green Peas Sandwich
Sandwiches are the go to meal when either you have less time to cook or you have less time to eat. When mixed and stuffed with the right veggies or meats they give a complete range of nutrients to the body.
As a quick fix solution, they fit into any meal be it breakfast, lunch or dinner. You could change the stuffing depending upon your appetite and taste.
Here, I am documenting Mutter mushroom Sandwich. Green peas and mushrooms are a great combination, often cooked together in gravies of India.
Hope you like the variations for them to be combined into a sandwich.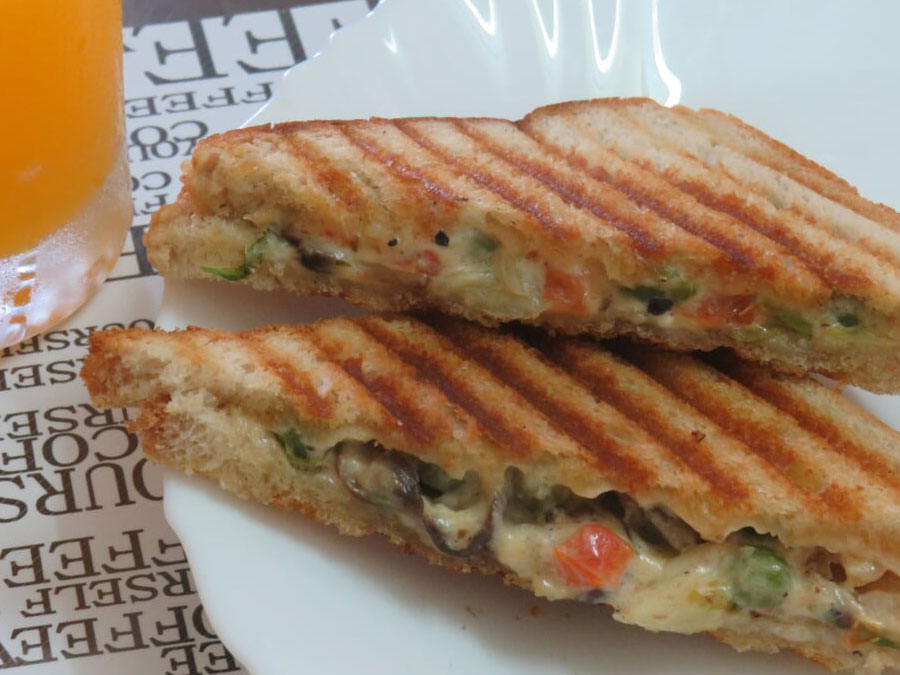 Ingredients
8 large slices of bread or then 16 small slices. You could use multiple varieties, I prefer multi grain most of the times

Button Mushrooms (regular mushrooms that you get in the market) 1 cup thinly sliced

Green peas / Mutter ½ cup (if frozen, thaw them till they are ready to cook)

Tomatoes ½ cup finely chopped

Olive oil 2tbsp or butter if you prefer. Mushrooms generally go well when sautéed in butter

2 tbsp Mayonnaise (if you want it completely vegetarian use the eggless variety available in the market)

¼ cup water

Dry Masalas

Freshly ground black pepper

Salt to taste
Instructions
1
Make fine slices of the mushrooms
2
Thaw the Green Peas if frozen
3
Put the pan on to the gas, let it heat up
4
Add some olive oil or butter as per your taste
5
Add the green peas and let them cook a bit for a 2 mins
6
Add the mushrooms in and keep mixing
7
Add salt and a little bit of water and let it come to a boil
8
Keep it on Simmer till the water has evaporated.
9
Please note mushrooms release a lot of water after the salt is added, so we do not want mushy mushrooms at the end. Hence, limit the use of water. It is only for the green peas to be cooked
10
Another way, is that, boil the green peas separately and then mix with the mushrooms. But, I prefer the way I do it described above
11
The mushrooms should have a bite and same should be for the green peas. They should not become very soft.
12
Once green peas are cooked, switch off the fire and remove the pan and pour the misture into a mixing bowl
13
Add the crushed black pepper
15
Add the mayo once it has cooled a bit
18
Apply butter on both sides and add the stuffing
Notes
Serve it along with roughly chopped, ice lettuce and tomatoes and boiled potatoes if you like or even fruits for a healthy breakfast. An orange juice would go well to complete the meal.