Kerala Styled Mutton Stew / Lamb Stew
I am a big fan of Keralite or Malyalee food.  As a kid have had the Malabari Porota while I was a kid and my dad was posted in Bahrain. I loved the Khaboos which the Arabs made and the Porota which was available in Malayalee food places.
I am writing here not about the porota or the meen curry or the famous black gram curry. There is a special love for stews made in Kerala, whether they are vegetarian or non-vegetarian. I kind of mastered the vegetarian stew with mix of veggies in almost the same gravy so, I decided to make the Mutton Stew today which is a soft and warm dish.
I have a Keralite friend over and challenged myself to treat him to something which he must have been used to with friends and family in Kerala. Will take the feedback after it is done and get back to you guys on the expert comments from him.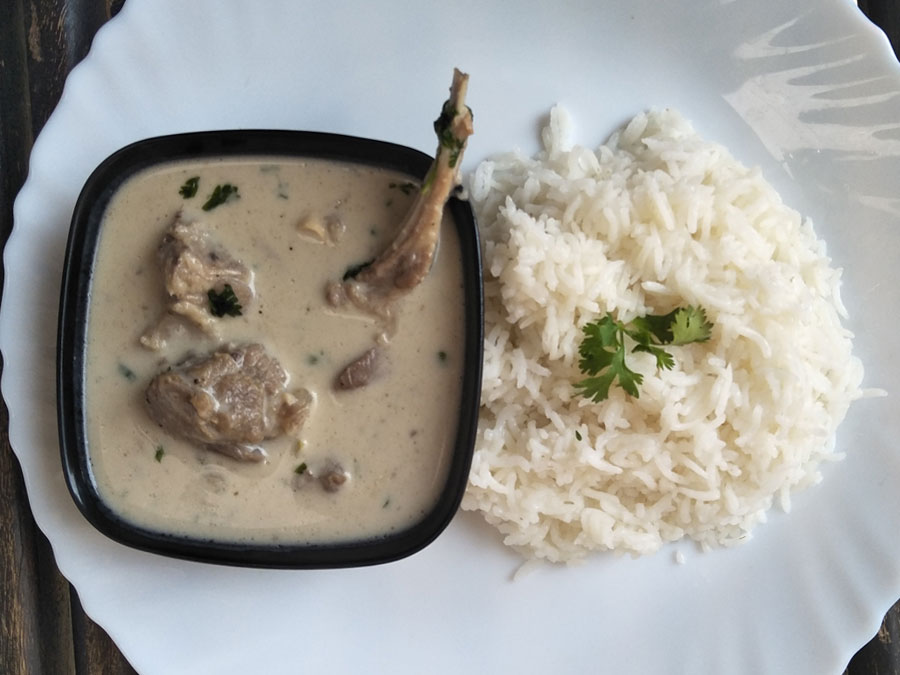 Ingredients
500 gms medium sized lamb pieces

400 ml of thick coconut milk

2 medium sized Onions cut into thin slices

3-4 green chillies, finely chopped

10-12 garlic pods

1.5 inchpiece of Ginger

2-3 tablespoons of coconut oil

2 cups of water

8-10 curry leaves

¼ cup finely chopped fresh coriander
Dry masalas
1bay leaf / Tejpatta

3 green cardamom

1 star-anise

2 tbsp coriander powder

4-5 cloves

2 pieces of 1-inch stick of cinnamon

4-5 black pepper corns

1 tsp of black pepper powder

1 tsp ground homemade garam masala
Instructions
2
Pour the coconut oil in a pressure cooker and heat the oil
3
Add the cloves, black pepper, black pepper powder to the oil.
6
Crush the garlic and ginger and slit the green chillies. Put that into the cooker.
7
Add a little salt to the mixture.
8
Cook the onions till they are soft and transparent. Do not brown the onions.
9
Add the mutton and mix well
10
Add the water and pressure cook for 4-5 whistles.
11
The lamb should be cooked by then.
12
Wait for the cooker to open
13
In a separate pan add some oil again
14
Add the curry leaves, coriander powder and star anise
15
Add the cooked lamb to the pan.
16
Add the thick coconut milk and mix well.
17
Let the mixture come to a boil and cover it simmer for 5-7 mins.
18
Add the finely chopped coriander
Notes
The Lamb / Mutton stew is ready. It is soft, creamy and the mutton broth mixed with the coconut milk ives out a heavenly fragrance. Enjoy the mutton stew with appam.