If you have any Sai Bhaji or Palaak (spinach gravy) left over and want to make a quick snack out of it?
Sai Bhaji can be quickly converted to Sindhi Palak tikki. Palak Tikki has all the flavours of Sai Bhaji and a little more bite with some onions and (besan) gram flour.
As a child Sai Bhaji was a norm in the house. I am so glad that Mom gave us all healthy food. She used to ensure that she makes lot more of Sai Bhaji and convert it into palaktikki. She knew that we all loved this favourite evening snack with our tea or juices.
This is a quick left-over recipe, so will get straight to it.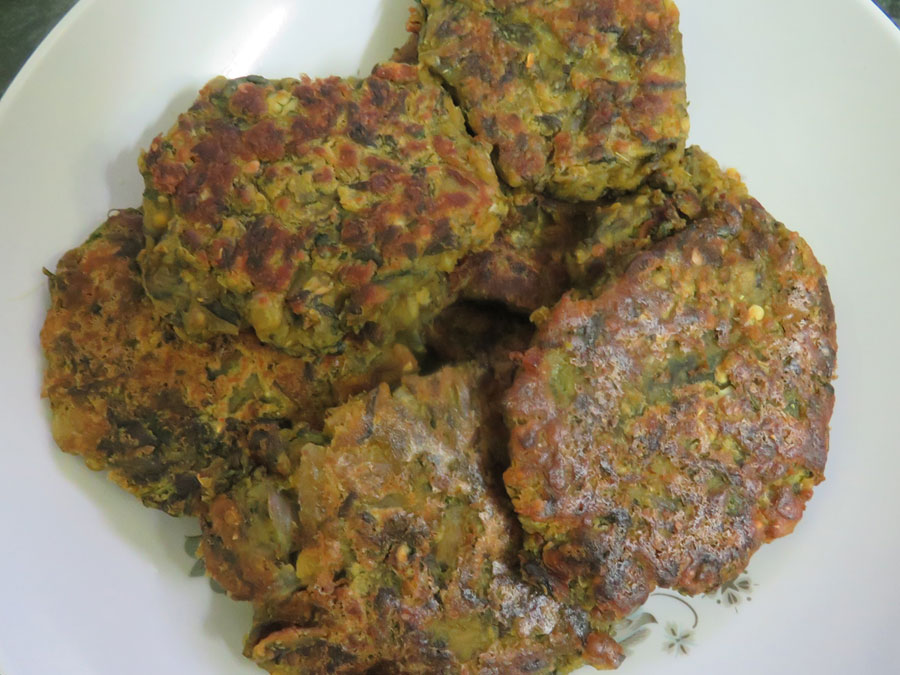 Ingredients
1.5 or 2 cups of Sai Bhaji or any spinach gravy for that matter.

2 tbsps of Besan / gram flour

1 medium finely chopped onion

1 tsp carrom seeds (ajwain)

Salt to taste
Instructions
1
Take the left over sai bhaji in a frying pan.
2
Boil it till it loses all its water.
3
Cool it down and transfer to a mixing bowl
4
Add the besan and finely chopped onions
6
Heat a flat tawa on the gas and spread some cooking oil
7
Take a spoon of batter and spread it into small tikki and repeat till batter is over
8
Cook on low gas. This takes time as palak had water content and the besan also needs to cook.
9
Flip the tikkis when they move freely on the tawa. Cook similarly on the other side.
Notes
You do not really need anything with this but if you so insist Tomato Ketchup & mint chutney mixed together, goes well with this. You could also experiment with mayo & mint chutney mixed to create a mint dip.