Paneer Bhurjee Sandwich Recipe
Paneer is possibly the vegetarian equivalent of the egg. Paneer is also a very dairy product. Crushing the paneer and making bread crumb sized pieces for cooking is the bhurjeestyle of preparation.
Bhurjee in general terms go along with a pav and here I have stuffed the bhurjee in the whole wheat pav with some raw onions are green chillies.
It's a very simple sandwich but I believe the process if of importance here.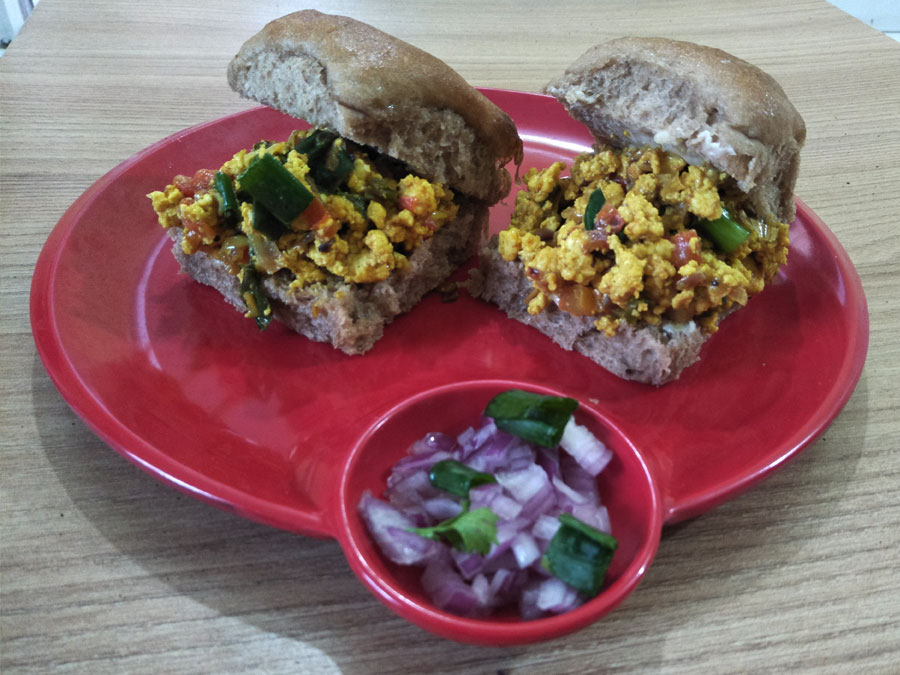 Ingredients
4 whole wheat pav

200 gm paneer block (if you prefer home made paneer then better that way)

1 small finely chopped onion.

½ finely chopped tomatoes

Butter as required

1 tsp Jeera / cumin seeds

½ tsp turmeric powder

1 tsp coriander seeds powder

1 finely chopped green chilly

½ tsp of garam masala

Salt to taste

1 tbsp oil

Some finely chopped fresh coriander
Instructions
1
Break and crush the paneer block to bread crumb sized pieces
2
Put some oil in a frying pan
4
After they flutter a bit, add the onion and green chillies
5
Saute the onions till transparent
6
Add the tomatoes and saute till cooked
7
Add the turmeric, coriander powder and mix well
8
Add Paneer and mix well till the paneer absorbs all the masalas
9
Sprinkle the garam masala and the fresh coriander and mix well again.
10
Paneer Bhurjee is now ready
11
Cut and warm the pav a bit on a non-stick plate.
12
Butter the sides of the pav
13
Stuff the pav with the Bhurjee and serve with finely chopped onions
Notes
Serve it with Ketchup if you like... But it is not really needed.