Pav Bhaji paratha
Converting the well-known street food from Mumbai into a paratha. Using the mix of vegetable used in pav bhaji, mixing them with the masalas and stuffing them into a paratha, is how simple this is.
Enjoy this distinct taste of pav bhaji in a paratha. Load it with butter and you have Pav Bhaji Paratha
Here is the recipe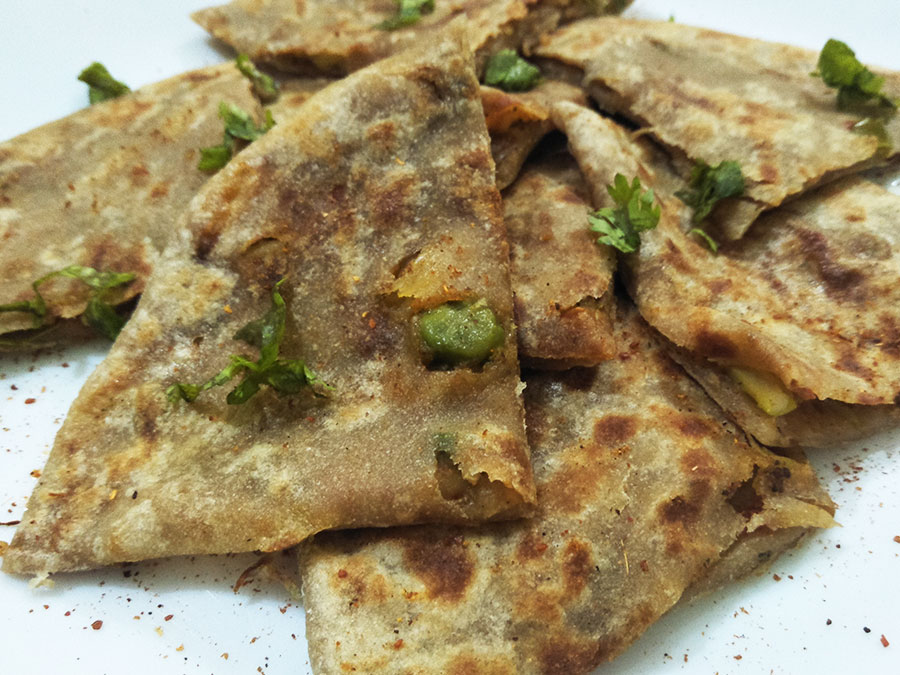 Ingredients
For the Paratha dough
2 cups of whole wheat flour

Water to knead the dough

Salt to taste
For the Stuffing
2 large boiled potatoes

½ cup cauliflower florets boiled

½ cup finely chopped capsicum

1 large finely chopped onion

2 finely chopped green chillies

Half cup of finely chopped fresh coriander

1 tbsp pav bhaji masala

Juice of 1 lemon

2 tbsp oil

Salt to taste
Instructions
For the Paratha
2
Knead a soft dough, like the way we do it for chapattis or any other stuffed paratha
3
Leave it to rest for a while approx. 10-15 mins
For the Stuffing
4
Heat a frying pan, add the oil.
5
Add the onions, green chilli and saute till transparent
6
Add the capsicum and aute till semi cooked
7
Add the pav bhaji masala and mix well.
8
Add the boiled & roughly chopped potatoes and the boiled and roughly chopped cauliflower
9
Mash in the pan and mix well
10
Switch off the flame and let the mix cool down completely
11
Transfer to a mixing bowl
12
Add the fresh coriander,lemon juice and mix well
14
Ensure that it is dry mix and no water content at all.
Let's make the Paratha now
15
Make about 8 equal balls from the dough
16
Take a ball of dough and roll it on a rolling pan till about 3-4 inches in diameter
17
Add a couple of spoons of the stuffing in the centre.
18
Pull the ends of the rolled paratha over the stuffing and seal it properly. Remove any excessive dough if required.
19
Make this into a ball again
20
Roll it to about 6 inches in size or to whatever best size you can manage
22
Put the rolled paratha on the tava and cook on medium heat on both sides
23
Once the paratha is cooked, increase the heat and apply some butter to the paratha on both sides and fry on both sides
24
Bring it down from the fire and serve
Notes
This paratha will go well with yoghurt or mint chutney.