Protein Tikki Sandwich Recipe
Yes, it is a vegetarian recipe and sure it is full of protein.
This is an original recipe made from blended sprouts and soaked soya beans with a little bit of spices.
I used add egg to this mixture earlier for binding but then the 2 vegetarians in the house would have to eat something different. There is though some levels of preparation for the sandwich required.
Paneer gets a little boring in the regular affair and so a good replacement like this tikki helps for a tastier alternative.
Here is my recipe for the same.
This recipes requires Hummus… If you don't have it ready, you can make your own by following this recipe of Hummus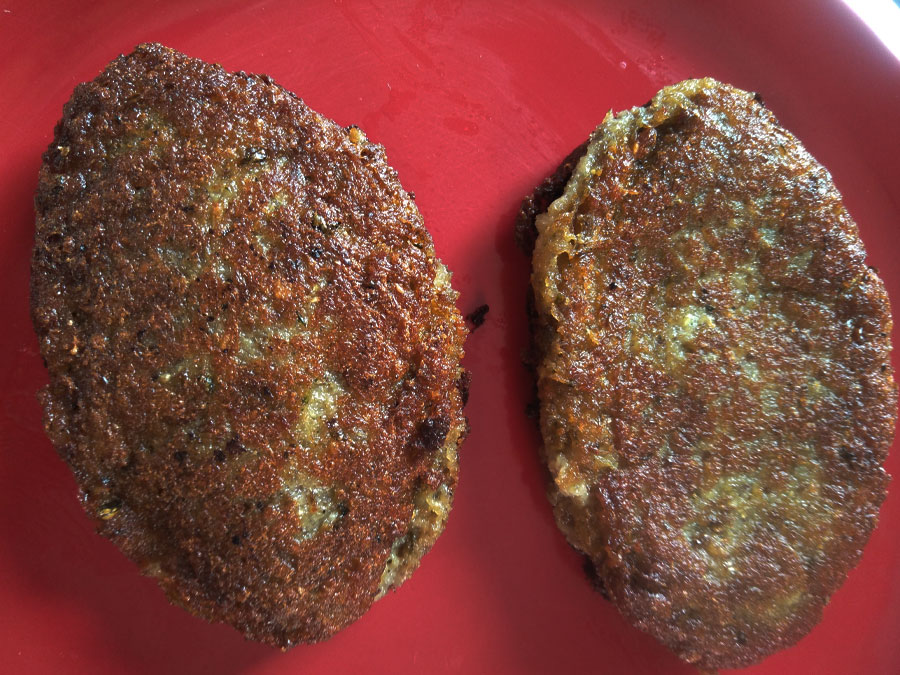 Ingredients
For the Sandwich
8 Slices of bread

4 slices of Cheese

Hummus, if you have ready, else you can make it as per a separate recipe on the blog.

Washed & Finely chopped cabbage

Butter as required

Chilli Sauce
For the patty
1 cup of medium sized puffed soya nuggets soaked in water with a bit of salt

½ cup of variety of sprouts soaked and sprouted. I use Rajma, Moth, Lobia, Green Moong, Black Gram and Chick peas.

1 large onion.

¼ cup fresh and finely chopped coriander

3-4 mint leaves

2 green chillies

Salt as required

2 tbsp of corn flour

½ tbsp of garam masala
Instructions
1
Soak the soya nuggets and the sprouts overnight.
2
Blend them in a mixer to a fine paste along with the onion, green chilies, coriander and mint leaves.
3
Avoid adding any water but ensure if everything is mixed well.
4
Take the paste out and add some the corn flour, salt and garam masala and mix well.
5
Make into 4 large balls and flatten them like a patty.
6
Refrigerate for a couple of hours, if possible.
Assembly of the sandwich
7
Butter the slices of the bread
8
Spread Hummus on the sides
9
Layer it with chopped cabbage
11
Add a few drop of chilli sauce
Notes
Serve it with French fries and a nice hot coffee.