Pumpkin Chicken Recipe
Every Indian kitchen has some recipe of it's own. While most of my friends in some parts of India frown whenever I mention chicken or mutton being cooked with vegetables, there are others who can relate to similar dishes. One very common dish for a Bengali household that is prepared often at my home is using this pumpkin chicken recipe. I simply relish the taste of it.
I made some of my brave friends in Pune who have an urge to taste different dishes try it. I was more surprised than they were when I found out that they could just not have enough of it. This made me think of writing on this dish. A quick search on the Internet brought me to terms with the fact that it was not an uncommon dish and you might just want to try preparing it at home.
The Pumpkin
The pumpkin that I am referring to while making this dish is what you often see in the retail stores in India labeled as disco pumpkin. Yes, I never got to understand why is it called that or if there is any other type of pumpkin with a different skill set? I hope you got the picture if you already did not know. If still not, then it is that vegetable which is carved during Halloween to make a ghost like face with a candle inside it. May be, this was not the right way to describe a vegetable which we are looking forward to savor in some nicely cooked chicken. But then, we as foodies do not really care as long as we know it's going to taste good.
Pumpkin has a slightly sweet taste and that is what makes this recipe work. I personally taste a small piece of the pumpkin before starting the preparation. If the pumpkin is not sweet, I will know that I need to add some sugar at some time during the preparation.
Having detailed out all these, I think we should now start off with the ingredients.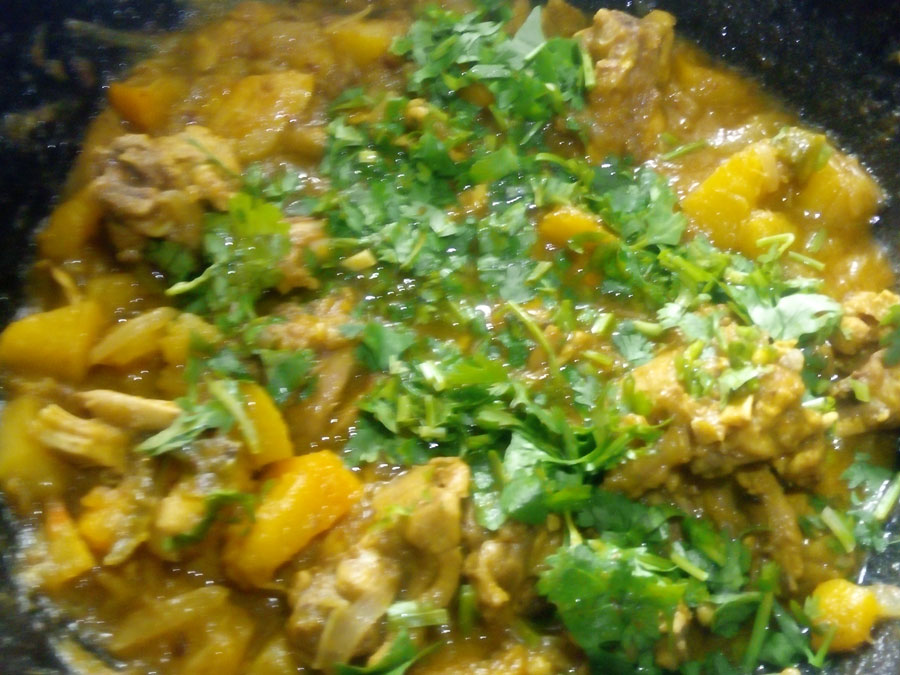 Ingredients
½ kg chicken

Pumpkin – 250 gms – sliced and diced

Onions – 4 medium sized – chopped

Ginger paste – ½ tablespoon

Garlic paste – ½ tablespoon

2 tea spoons of turmeric

Coriander chopped – 1½ table spoon

Oil – 5 tablespoons

Green chilies – 4

1 table spoon Chicken masala (just to keep matters simple)

1 lemon (a little tangy taste does work, but you can skip this if you don't want to)

Salt to taste

With all the ingredients in place, let us start off with the preparation part.
Instructions
1
It's always the marinating that we do first in case of most chicken dishes. Here it's pretty simple. A teaspoon of turmeric, a pinch of salt and a tablespoon of salt, that's it. Keep the marinated chicken aside.
2
Heat the oil in a kadhai and put the onion and green chilies into it. Keep stirring. When the onion starts appearing a little transparent, add the ginger garlic paste and the chicken masala and keep stirring.
3
Add the chicken to this base masala. Keep stirring and mixing the chicken with the onion and masala at low to medium flame for 3 to 5 minutes.
4
Add the chopped pumpkin pieces and a pinch of turmeric at this stage. We are not waiting for the chicken to be cooked completely. We added the chicken before the pumpkin because it would take the chicken slightly more time to absorb the spices and cooked. Pumpkin on the other hand gets transformed into a liquid texture on heating and so absorbs the spices quite easily and gets cooked. Keep stirring the dish while it's getting cooked.
5
Once the chicken seems to be cooked and the pumpkin has turned mushy add about 1½ cup of water. Add lemon juice, sugar and salt as per taste. Close the lid of the vessel and let the dish heat up for another 5 minutes.
6
One last thing remaining. Garnish with coriander on the top.
7
Savor the dish with chapatti or rice. Why would you be taking the trouble otherwise?
Notes
The end product would also be a delight to the eye. It will have the yellow to orange color of the pumpkin, the brownish color of the chicken and the green coriander at the top. If the sweat from your brow has gone into cooking this dish (which is actually not that hard to prepare) then the taste should be slightly spicy, more on the sweeter side and with a little bit of tang. Hope you like the preparation.