Paneer Masala Recipe
This is a quick and tasty completely home made version of Paneer Masala or Cottage Cheese Masala to some 😉
I learned from a friend and altered a bit. No complicated ingredients and no time consuming methods! Perfect for when you need a go to Paneer main course recipe to make a family happy without losing a ton of time.
It uses very less oil so it is light compared to some other recipes. The bit of cream used towards the end is what makes it rich. Don't buy that cream… Just use the cream that appears on top of milk boiled at home. Keep it simple… Right? If you are not all for the cream, replace it with curd in same quantity… But then you may want to add a bit of sugar to compensate.
The taste is yummy so no compromises there! Serve with a poli / chapati / roti / puri
If you made it, send us a picture… We love knowing that you made our recipe!!
If you personalized it and made it yummier, I want to know how :p
Next is a detailed list of ingredients and process.
After that, you can find this recipe done in various photos.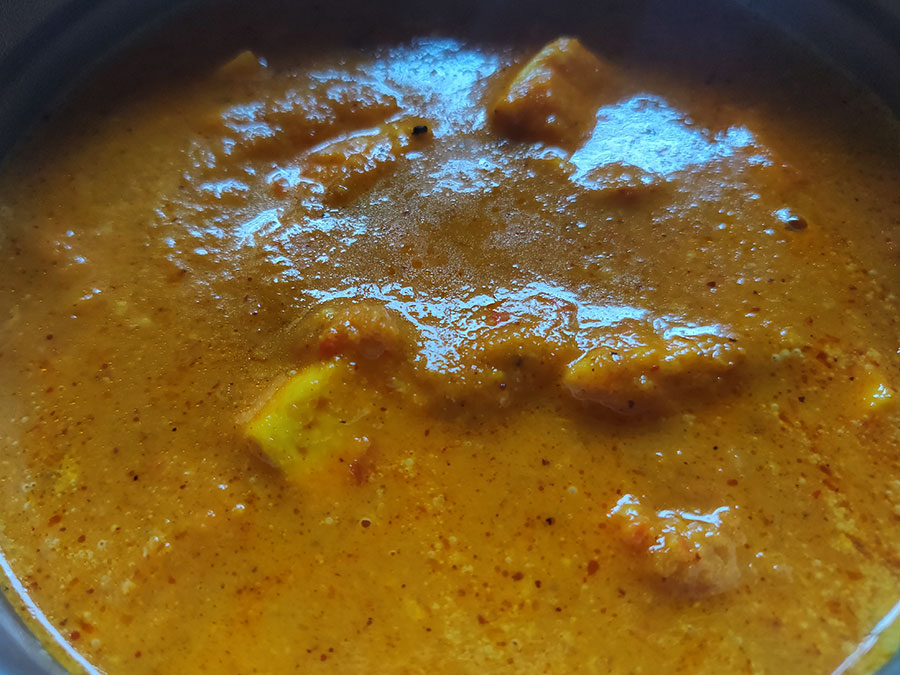 Ingredients
200 grams paneer – washed and cut in cubes

2 medium sized tomatoes – cut

2 medium sized onions – cut

2 teaspoons Cumin powder

2 teaspoons Coriander powder

2 teaspoons Everest Chicken Masala

2 spoons ginger garlic paste

3 tea spoons oil

2 tablespoons cream

1 tea spoon kashmiri red chili powder

1 tea spoon turmeric powder

Salt to taste

Sugar to taste (if preferred)
Instructions
1
Grind the tomatoes, onions, cumin powder, coriander powder, chicken masala and ginger garlic paste in a mixer jar.
2
Heat the oil in a kadhai / fry pan
3
Shallow fry paneer – covering it a bit and turning often to get that beautiful golden color on the cubes. If you cover the paneer, it's likely to absorb less oil.
4
Remove the paneer cubes from pan. Keep aside
5
In remaining oil, add kashmiri red chili powder and turmeric.
6
Wait a few second to let the oil turn red
7
Then add in the tomato and onion puree
8
Cover and let boil. Stir every few minutes to avoid uneven frying.
9
When the water evaporates and the gravy starts to look dry, add paneer cubes and mix them well with the gravy.
10
After a minute, add water and let the gravy boil.
11
When the gravy looks nearly done, add salt and sugar (if preferred) and stir
12
Then add fresh cream and stir till that mixes.
13
Let it boil for a minute and done!
14
Garnish with fresh coriander and a little butter if you like it.
Notes
- You can use the fridge version of ginger garlic paste but if you have some time, make a fresh paste… The taste will be nicer and warmer somehow! - You may use normal red chili powder in place of kashmiri chili powder. But kashmiri chili will bring about a nice red color to gravy.