Sai Bhaji, Bhuga Chawar
I would not believe that if you are a Sindhi and have not been asked about Sai bhaji. Daal Pakwaan and Sai Bhaji is what the world things Sindhis are made up of and it is partially true. Spinach / Palaak is a rich source of nutrients and I come from a generation who grew up seeing Popeye cartoons. Popeye, the sailor, got all his strength from Spinach and I believe that is the reason for a fit me too.
Sai Bhaji is generally accompanied with Bhuga Chawar or rice cooked with caramelized onions. If you go to a typical Irani / Muslim restaurant, they generally have a dish on the menu called the Biryani Rice. BhugaChawar is similar or better.
I have always maintained that the best of the food is made with the modest of the local ingredients and simplest of the processes. This is another example of the same…
And then remember… If some Sai Bhaji is leftover for next day, you can always make Palak Tikki !!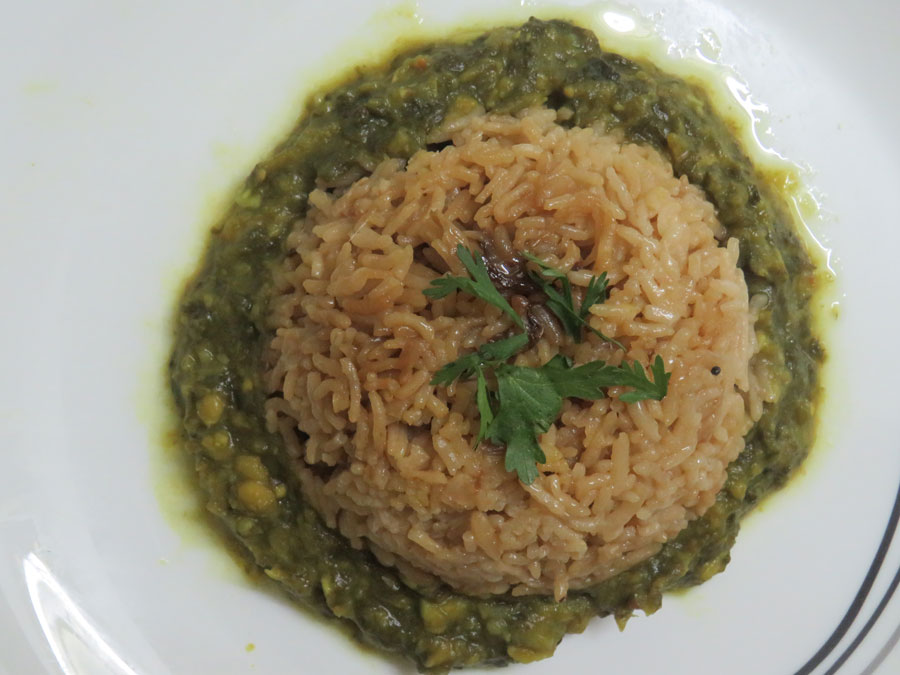 Ingredients
For Sai Bhaji
1 large bunch of Spinach Leaves

1 onion

¼ cup Chana daal

1 medium sized egg plant / brinjal

Few large pieces of Bottle gourd / lauki

5-6 cloves of garlic

1-inch ginger

2-3 green chillies

¼ cup water

Salt as per taste
Dry Masalas
A pinch of asafoetida / hing

1 tsp Jeera
For Rice
2 cups rice

3 cups of water

1.5 sliced onions

1 .5 tbsp ghee
Dry Masalas
1 TejPatta

3-4 Cloves

2-3 Black Pepper corns

Salt per taste
Instructions
For the Sai Bhaji
1
Wash and then Cut the Spinach leaves, green chillies
2
Dice the onion, egg plant and Bottle gourd
3
Setup the cooker on the gas
4
Add all the ingredients in the cooker including the water
5
Seal the cooker and let the mixture cook for 3-4 whistles
7
Open the cooker, Mash the vegetables and add some hing. Sai Bhaji is ready
For the Bhuga Chawar
8
Wash and Soak the rice for 30 mins
9
Setup a cooker on the gas
10
Start the heat and add the ghee
11
Add the tejpatta, Cloves, black pepper and sautee for a min
13
Sautee the onions till dark brown or completely caramelised
16
Seal the cooker and let it cook till 3-4 whistles depending on how much you like your rice to be cooked.
Notes
This combination is "Rab Ne Banayi Jodi" in food. If you want, you could add a mango pickle or a boondi raita to go with it.