The Sindhi Chicken Curry
Like they say, there are many types of non-vegetarian eaters. There would be fish eaters, mutton eaters and then there would be the chicken eaters. Some Chicken and fish eaters, consider them almost vegetarians. So, it has become in the Sindhi food too.
Sindhis cook their chicken in a thick onion gravy with a lot of whole garam masalas and end it with a good amount of cardamom. This is a typical brown sindhi gravy created.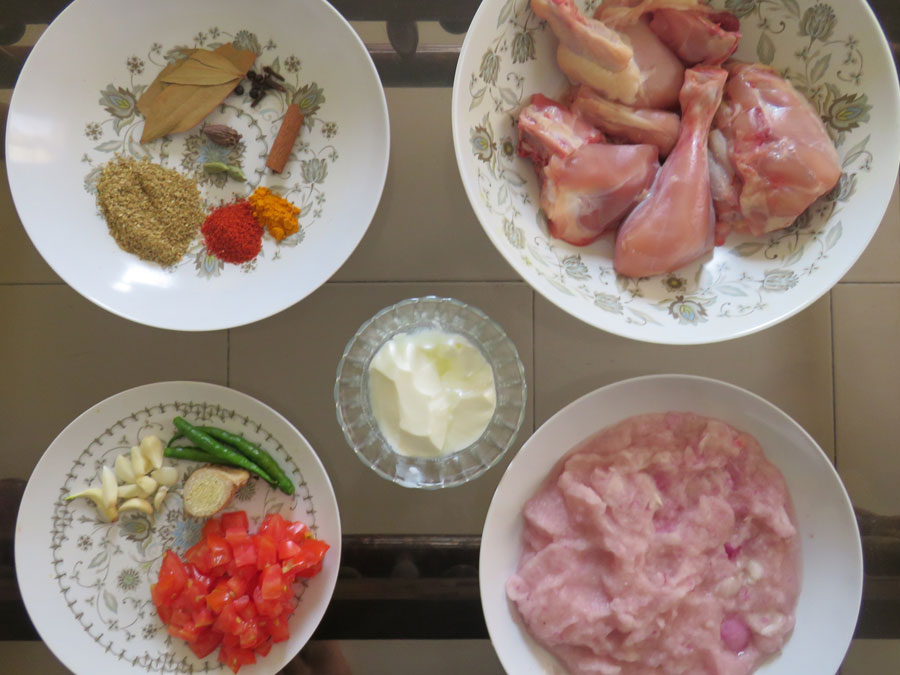 Ingredients
500 gms Chicken cut

500 gms Onions (4 large onions), finely chopped or made a paste in the mixer

2 large potatoes, cut into large pieces

1 tomato, finely chopped or paste in the mixer

3-4 green chillies, finely chopped

10-12 garlic pods

1-inch Ginger

2-3 tablespoons of oil

2 cups of water
Marination
½ cup of curd

1 tsp turmeric

1 tsp red chilli powder

Little bit of salt
Dry masalas
2 Tejpatta

1 large cardamom (black)

2-3 green cardamoms powder

2 tbsp coriander powder

4-5 cloves

1-inch stick of cinnamon

1 tsp cumin seeds

3-4 black pepper corns

1 tsp ground homemade garam masala
Instructions
1
Clean the chicken and mix it with the margination mixture and keep it away for 3-4 hours
2
Pour the oil in a pressure cooker and heat the oil
3
Add the Dry Masalas to the oil (except for the green cardamom, coriander powder and garam masala)
4
Let the masalas splutter a bit
5
Make a paste of Ginger & garlic & chillies
6
Add the onions to the oil and start sautéing
7
Add the Ginger, garlic & chilli paste and continue mixing
8
Cook this mixture by continuous mixing till the time the onions are brown and start separating from the oil
9
Add the tomatoes to this and start mixing again
10
Add the marinated chicken, after the tomatoes are slightly cooked.
11
Now keep mixing the mutton on medium flame in the onion mixture for 5-10 mins till the time the mutton also starts leaving the oil
12
Add the coriander powder and turmeric and mix well
13
Add the water, mix it well, add the salt and ground garam masala
14
Pressure cook the mutton for 4 whistles or how much you want your chicken to be cooked. I like the flesh just about holding on to the bone.
Notes
Let the pressure release from the cooker on its own. Once the cooker opens add the green cardamom powder and mix well and garnish with chopped fresh coriander. Lot of people do not like the whole garam masalas in the mouth while eating. So, if you prefer, after step 9, let the mixture cool a bit, then put it into a mixer and blend it. Continue with the balance steps as it is.
Sindhi Chicken curry go well with the plain phulkas or with white steamed rice.