Soya Mince paratha
Soyabean is often referred as Veg meat in our house. Mom used to cook the large chunks with large pieces of potatoes to make them taste exactly like meat. Taking that further, soyabean started getting available in granules and she converted it to taste like mutton kheema cooked with green peas and potatoes.
Believe me Soyabean rocks in whichever format you would like to eat it. I love the spicy Soya chunks pulao the most.
In the run for Innovative and different parathas, I thought of using the soya mince to make a veggie kheema paratha. So basically, a soyabean mince paratha.
Here is my attempt of making a paratha filling out of this.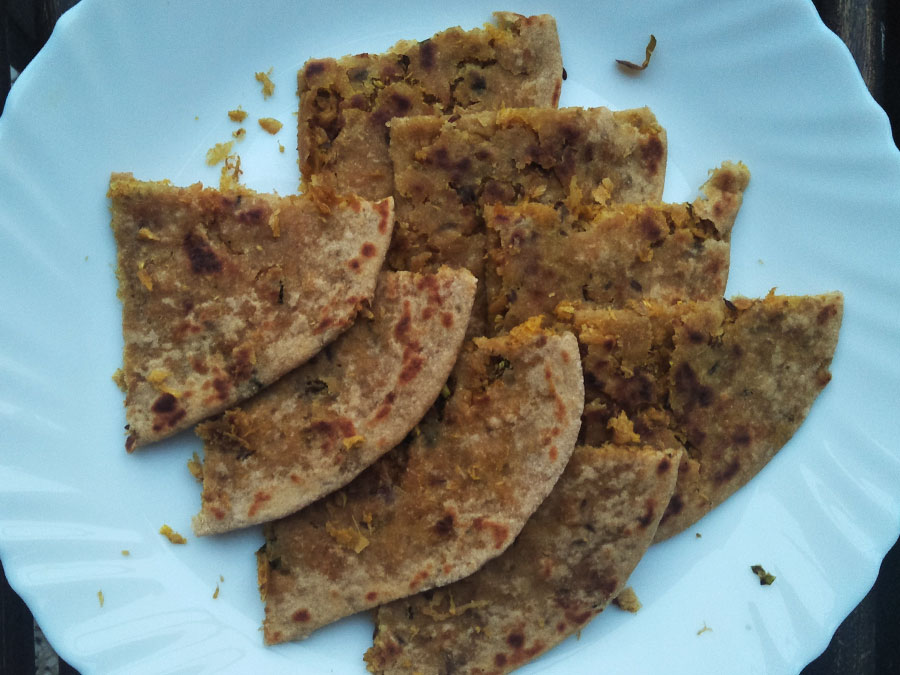 Ingredients
For the Paratha dough
2 cups of whole wheat flour

Water to knead the dough

Salt to taste
For the Stuffing
1.5 cups of soya granules

1 medium finely chopped onion

2 finely chopped green chillies

Half cup of finely chopped fresh coriander

½ tsp garam masala

1 tsp crushed ginger

1 tsp turmeric

½ tsp red chilli powder

2 tsp coriander powder

2 tsp cumin seeds

1 tbsp of lemon juice

6-7 curry leaves

2 tbsp of Oil

Salt to taste
Instructions
For the Paratha
2
Knead a soft dough, like the way we do it for chapattis or any other stuffed paratha
3
Leave it to rest for a while approx. 10-15 mins
For the Stuffing
4
Soak the soya granules in salted hot water for 5 mins
5
Drain the water and squeeze the granules almost dry.
6
Take a frying pan and put it up on the gas.
7
Heat the pan and add the oil to it.
8
Add the cumin seeds, curry leaves and grated ginger
9
Followed by onion and finely chopped green chillies
10
Saute till the onion is transparent.
11
Add the dry masalas and mix it well
12
After a min add the soyabean granules and mix well
13
Cook till all masalas are mixed and the mixture is dry.
14
Add the finely chopped coriander,garam masala and the lemon juice.
15
Mix well and let it cool.
16
Your paratha mix is ready.
Let's make the Paratha now
17
Make about 8 equal balls from the dough
18
Take a ball of dough and roll it on a rolling pan till about 3-4 inches in diameter
19
Add a couple of spoons of the stuffing in the centre.
20
Pull the ends of the rolled paratha over the stuffing and seal it properly. Remove any excessive dough if required.
21
Make this into a ball again
22
Roll it to about 6 inches in size or to whatever best size you can manage
24
Put the rolled paratha on the tava and cook on medium heat on both sides
25
Once the paratha is cooked, increase the heat and apply some butter to the paratha on both sides and fry on both sides
26
Bring it down from the fire and serve
Notes
This paratha goes well with plain curd. It would also go well with a green mint chutney.