Tandoori Aloo Sandwich Recipe
Marinated and Baked potatoes are a tasty delight any day at any time.
The flavour of the tandoori masala baked / roasted in a tandoor with the smokey flavour served with a green chutney is one of the quick moving dhaba styled snacks.
I try to turn it around to push it into a sandwich with certain mixed flavours. Tandoori Aloo Stuffed in a sandwich with complimenting flavours will bring out the best of them.
Mint, lemon and spice are the flavours in this sandwich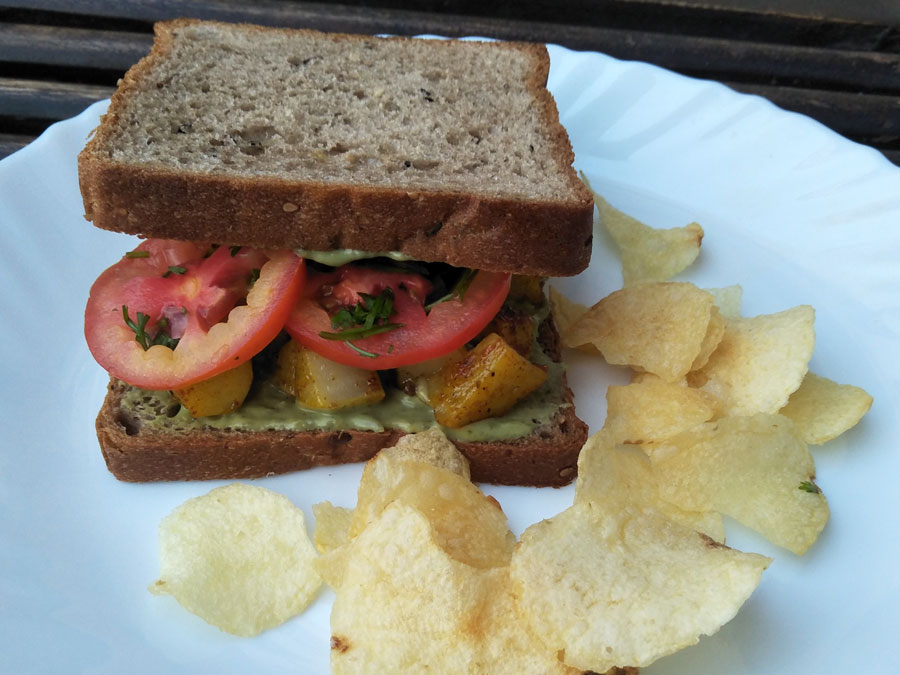 Ingredients
8 slices of whole wheat bread

2 large potatoes par boiled
For the marinade
Salt to taste

1 tsp red chilli powder

1 tsp turmeric

1 tbsp coriander powder

5 garlic cloves mashed

1 tsp garam masala

1 tbsp curd

1 tbsp gram flour (besan)

Juice of half a lemon

1 tbsp oil
For the stuffing
Butter as required

Some iceberg lettuce

Mint Mayonnaise

1tsp chaat masala

2-3 finely chopped mint leaves

Sliced tomatoes

Sliced Onions
Instructions
1
Cut the par boiled potatoes into bite sized pieces, after they have completely cooled down
2
Add the marinade masala in a bowl
3
Add the potatoes to the mixture
7
Bake them at 180deg for 10 mins or put them on a grilling pan for a 4-5 mins
8
Keep flipping them over in the pan
9
Check if the potatoes are completely cooked
10
Butter the slices of the bread
13
Add another layer of sliced onions
14
Add a layer of tandoori aloo
15
Top it up with tomato slices
16
Add the finely chopped mint leaves
17
Sprinkle some chaat masala
Notes
Serve it with a tamarind chutney or green chutney if you wish. The chutneys or dips are not required as the sandwich would take care of most of the flavours.