Tidali Daal
The heavenly mixture of 3 lentils.
I call it heavenly because the smell and the aroma of this daal takes your culinary senses for a ride to where you do not want to come back from. A combination of 3 daals viz., Chana Daal (Split Bengal gram) , Dhuli Urad Daal (Split black bean) and Dhuli Moong Daal (Split Green bean).
The ratio in the mixture really is a personal choice, I have been making it with equal portions of all daals. So a cup and half of the mixed daal would be sufficient for 4 people.
Had thought of preparing the daal today and suddenly realized the way my mother used to cook in the bronze pot. She used to slow cook the daal in this metal pot and the aroma would be there since morning when the pot went up on the gas. So although lately we have been preparing this dish in pressure cooker but today decided to make it in the old family bronze pot used specifically to slow cook this mixed daal.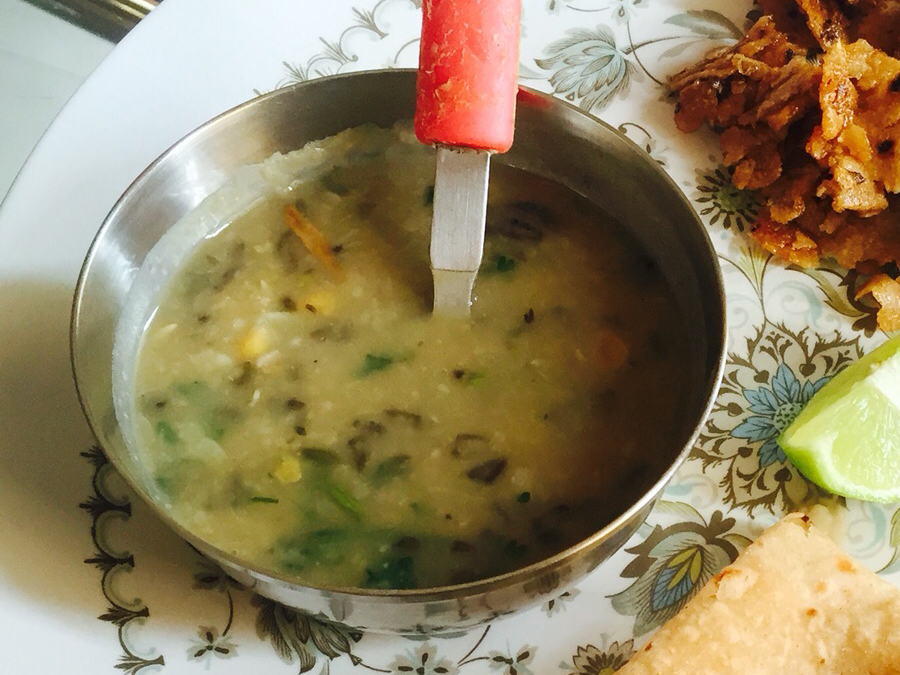 Ingredients
1.5 cups of mixed 3 lentils (equal proportions)

3 green chillies

¼ inch of ginger

For the tempering:

7 garlic cloves

1 tsp Jeera / Cumin seeds

For garnishing, Fresh Coriander & Squeeze some lemon after serving for each
Instructions
1
Soak the mixture of the daals for a minimum period of 3 hours
2
Put the daal in the bronze pot with slit green chillies and ginger
3
Add enough water to the pot (atleast 3 – 4 cups)
4
Put on the gas, put the lid on the pot and let it simmer for 1 hr 15 mins
5
Keep checking and mixing from time to time. But believe me with there was nothing that got stuck to the bottom or anything of that sort at all.
6
The daal would be ready to be tempered now.
For the Tempering
7
Heat some oil in a tempering bowl
8
After the oil heats up add the cumin seeds to the oil
9
Add the curshed garlic cloves
10
Put this tempering on the daal and mix the daal.
11
Tidali Daal is ready to be served. Add a few drops of lemon before serving each individual. Garnish the dal with the finely chopped corriander.
Notes
The best combinations that I would recommend with this is with Dhodho churi( mashed dhodo in jaggery and ghee), tuk patata (fried potatoes) and mint chutney. This can also simply be eaten with Dhodo and Chutney on the side. I have always maintained that most of the foods which stay on your taste buds for a long time are the ones which are simple and made with lots of love. Enjoy the Tidali daal.