Vegan Christmas Sandwich Recipe
Was looking to make a sweet and savoury type of a sandwich for some time and what better than Christmas day to try it out.
This is my 23rd sandwich recipe in a row and am feeling good that I am still having the steam to complete my marathon of 30.
Since it was Christmas, I wanted the red and dark reds to come out of my sandwich and wanted it to be healthy too.
Hence, have used the carrots and beetroots. Here goes the recipe.
I wanted the recipe to have everything, sourness, sweetness and some spice too. Using the given ingredients got a complete balance of all. My best creation till date.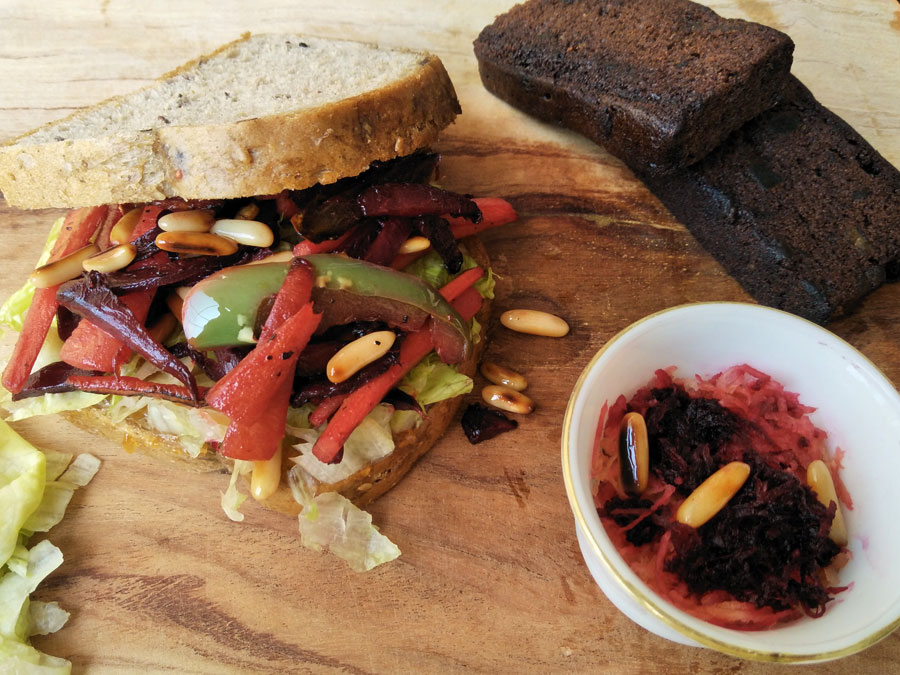 Ingredients
8 Slices of multi grain bread

½ cup of long julienne of carrot

½ cup of long julienne of beetroot

½ cup of long julienne of green capsicum

Freshly ground sprinkle of black pepper

1 large garlic clove

Orange Marmalade

2 tbsp of pine nuts

2 tsp of olive oil

½ cup of roughly chopped lettuce
Instructions
1
Heat up a pan and add the olive oil
2
Add the crushed garlic clove
3
Sprinkle the black pepper powder
4
Add the carrots, capsicum, beetroot and the nuts
5
Roast them for about 2-3 minutes, till they are just about to start wilting.
6
Let the mixture cool down
7
Spread the orange marmalade on the multi grain bread
9
Add the mixture on top of the lettuce
Notes
Serve it with a mix of grated carrot, beetroot and lettuce topped with honey (not vegan) and of course some plum cake. A nice dark coffee would add the punch.