Vegetarian Burger Meal
Burgers are my first love. I think that statement describes it all.
My Restaurant Stint
I had a restaurant called Burgerland and it served street styled burgers and hot dogs with some neat thick shakes. This was in Pune on the prime Dhole Patil Road. But maybe it was too early for comfort for everyone as neither Dominos nor Pizza hut or McDonalds had opened shop in Pune at that time.
The Sinful Burger
I understand Burgers are not a healthy meal but that does not mean that one is not allowed to sin occasionally. To get rid of the slight guilt I have added a salad to this one.
My second love is Baked beans on toast. I generally have this for breakfast and another must have with this combination is a sunny side up egg.
I have tried to combine all my fav items to create a full Burger meal.
Here is my recipe for the same.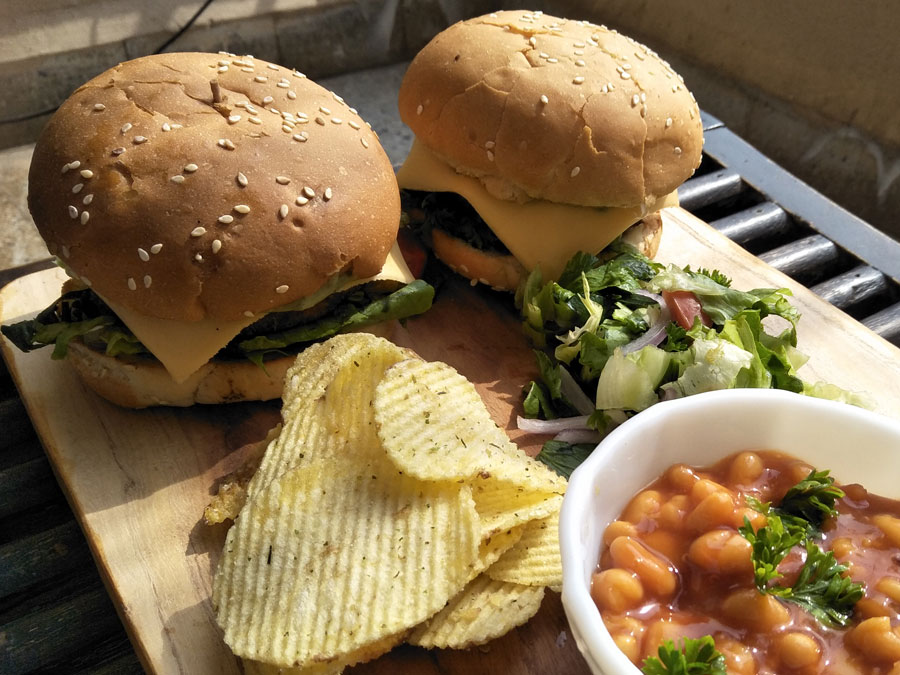 Ingredients
For the bread
2 Burger Buns

2 tbsp of mayonnaise

2 cheese slices

1 tbsp tandoori masala
For the patty:
2 large boiled potatoes (boil them for 6-7 whistles so that they mash easily)

1 large finely chopped onion.

¼ cup boiled green peas

¼ cup shredded carrots

1 tbsp corn flour

1 tsp ground black pepper

1 finely chopped green chilly

Salt to taste

Some finely chopped fresh coriander

Oil for deep frying as required
For the Baked Beans
I bought a ready Heinz Baked Beans in tomato sauce from the market. I shall write about how I go about making this in the Indian context soon.
For the Salad
A cup of roughly chopped iceberg lettuce

Half a cup of celery leaves

A bit of parsley

Sliced Onions

Sliced tomatoes

Slices of Avocado

1 tbsp of Olive Oil
Instructions
For the Patty
1
Peel and Mash the potatoes to a fine paste
2
Add the green peas, shredded carrot and the other ingredients listed for the patty
4
Make 2 thick patties about 2 inches in diameter
Burger Assembly
6
Mix the mayonnaise with tandoori masala
7
Spread the mayonnaise on both sides of the buns
8
Layer it with roughly chopped salad
9
Place the patty on top of it
11
Close the burger and keep it straight by pushing a tooth pick in the middle of burger.
Baked Beans
12
Open the can of ready baked beans in tomato sauce and heat it up
13
Pour the beans in a bowl.
Salad
14
Roughly chop all the greens mentioned mixed with sliced onions and tomatoes. Pour the olive oil on top of the mixture and server.
Notes
Serve the burger with salad, cream & onion chips and the bowl of baked beans in tomato sauce.