Zunka Recipe
Though I am only including Zunka recipe here… This post also contains an introduction to the admired, ever popular Maharashtrian meal that makes Marathis feel warm and fuzzy on a cold afternoon.
People around Pune visit faraway food joints in search of the good zunka bhakri. Some even climb the Sinhagad just for this meal! Read on for more. We will go on linking all dishes here to their separate recipe pages as they get added.
The Meal
Zunka – sometimes also called pithla or besan – The ingredients for all these are almost same. But there is some taste and viscosity variation for each type. Pithla has more water or buttermilk added while cooking. The consistency can be thin. It contains less chili and oil than zunka. The thin pithla tastes great with rice. Besan would be thicker in comparison. But even these definitions change every 10 miles.
Bhakri – Protein rich flat bread made with Jawar, Bajra or Rice flour… Everyone has their favorite. The best part is it has zero oil and it is recommended by doctors India over.
Kanda – raw onion pieces are a must with this treat. This forms the crunchy salad element of the meal.
Mirchi thecha – A bursting hot and flavorsome side dish made by roasting green chili and garlic.
Khekda bhaji – Crispy onions fritters. Add this to the typical zunka bhakri meal and you have non-vegetarians swooning over vegetarian food! Food joints that offer Zunka Bhakri will most assuredly have these on the menu.
Along with this sumptuous meal, have some fresh butter milk and you have a guarantee of a happy sleepy Sunday afternoon!
I learned to make pithla from my mother (A Puneri Koknastha) and Zunka from my mother-in-law (A Maratha from Vidarbha). And now I boast my knowledge of the minute differences between two and my ability of cooking both with correct variations.
What follows is a recipe for the delicious Zunka taught to me by Mum-in-law. She makes something called "Dhapate" to go with this for travel instead of the typical Bhakri or Poli… And I have begun to adore "The Dhapate"… That is a recipe for another time!
Because of the oil content, this Zunka stays good for a whole day. Hence it's perfect travel meal. Try making some for your next travel. The oil quantity that I have mentioned here does not compare to what my mum-in-law adds… But this is the extent of what I can add without feeling too guilty!
Here's the recipe…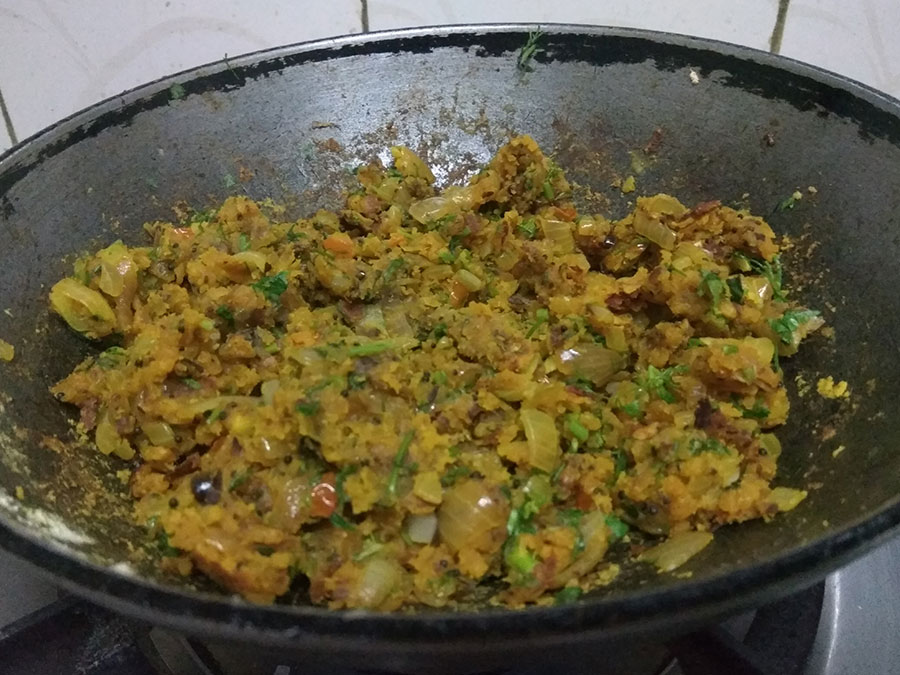 Ingredients
3-4 table spoons oil

1.5 bowl besan / gram flour – regular sized bowl

2 green chillies – thinly sliced

1 tea spoon cumin / jeera

1 tea spoon mustard / mohri

1 pinch asafoetida / hing

2 pinch ajwain / owa

6 cloves garlic / lasun – fresh paste or finely chopped

2 medium sized onions – chopped

1 large sized tomato – chopped

1 large bunch coriander – thinly chopped

½ tea spoon turmeric

Salt to taste
Instructions
2
Add mustard and cumin… Let it splutter
3
Then add asafoetida, ajwain, chili and garlic… Stir till the garlic turns a bit brown…
4
Then add turmeric and let it dissolve
5
Then add onion and continue to stir fry till the onions cooks and starts to turn brown
6
Now add chopped tomatoes and fry them till the mixture turns to mush and starts to leave oil
7
Then add besan / gram flour.
8
Mix thoroughly and cover for a bit.
9
Add salt and stir a bit more to form a dry mix with that beautiful appetizing color and aroma that makes you want to eat it right now.
10
Take it off the stove and add coriander and mix thoroughly.
11
Serve with chilli pickle and Roti / Bhakri / Paratha or "The Dhapata"
Notes
The quantity of fresh coriander leaves will affect the taste. So I have added the maximum – 1 large bunch here. You may use less if you prefer. I tried adding more one time and felt like – my favorite quote… "The grass eating goat" 🙂