Apurvai Non Veg, Narayan Peth, Pune
Non Veg Fish Thali / Mutton Thali Place
Find driving directions of Apurvai Non Veg on Google Maps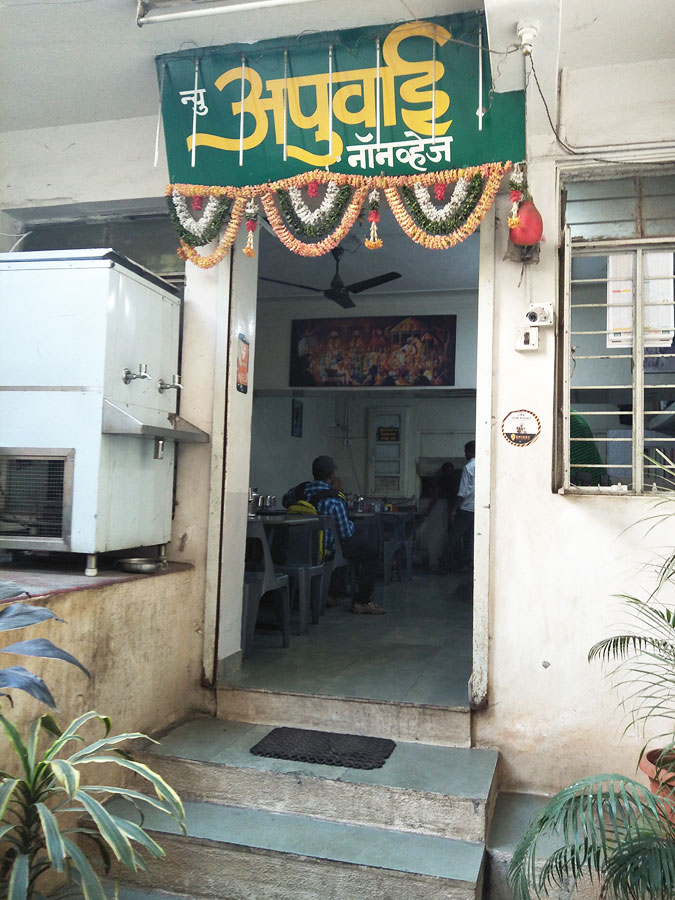 The second in my mutton thali list is another rustic outlet which is set in a wada (old house) Which has got a building constructed around it but this place is not converted to a building as yet. It does not even have a direct entrance from the road. You have to enter the building through a furniture shop and then there is a room where the door for this khanawal is.
Apurvai is approx. a 15-year-old addition to the list of the non-veg thalis in Pune. I first visited this 2006. Its still the same small place tucked inside belly of a building in one of the corners of Narayan Peth, very close to the Bhide bridge.
The fish thali and the mutton thali here are the highlights of this place. They have a special mutton thali in which they serve the Mutton masala, mutton kheema, sukkha mutton, pandhrarassa, tambdarassa, onions in curd. Served with a choice of Bhakri or chapattis. Bhakris are also in choice of bajra or Jowar.
I went to this place recently for a review and found that the gravies have really mellowed down. They had a sharp Kolhapuri flavour with a real kick of chilli to it. I remember I could never finish their thali as my tongue would give up. The sweat would start running down the spine as soon as you hit the first couple of bites.
This time the gravies were much milder, and flavours were higher. I liked the thin pandhra rassa here and the kheema too was flavourful. Perfect texture of the kheema, the chunks visible but so soft that they melt on your tongue.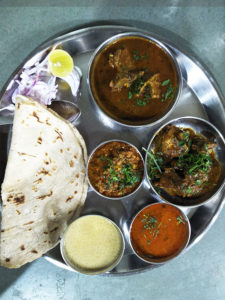 The mutton sukha and mutton masala were below average. In fact, I had to put the tambda rassa into the mutton gravy to make it slightly more palatable. The mutton was barely visible on the bones in both the dishes.
The jowar bhakri was slightly under cooked and felt raw at places.
What I really like about this place is the sukkat (dried Bombay duck or bombil) chutney. This is certainly the highlight of this place. Do try the sukkat chutney here. Go here more for the sea food thali than the mutton one.
Overall a place with homely food where some things if ignored the rest is excellent.