Karlo Art Kitchen and Café.
Located next to Kohinoor Mangal Karyalay, just off karve road on lane no 8 of prabhat road.
Find driving directions on Maps
Great ambience, whacky names of dishes, some funky cocktails and that's the mix Karlo gives to you.  A Sunday lunch with family was due. Had heard about this café when it was opening a few months back but had not been able to visit it.
Finally, booked a table today morning.  But, when I reached there, I realised there was no need to book a table as it was not crowded at all. They had closed the open area seating as there were flowers falling from the tree above.  Which they said that does not happen in the evening.
Although I said, it was not crowded but the seating is nice and private inside the place. It kind of gives you a feeling that you are the only group there. I liked the feeling of privacy, specifically at the place we were given a table.
Excellent décor, beautifully done flower paintings.  Gives you a very pleasant feeling to be around there. I can describe it as a homely, summer Sunday afternoon kind of a feeling.
The service staff were very friendly and quick on their feet. Nice to see responsive and quick people on their feet to give you a good experience.
We started with Mocktails, the Splash and Rising sunshine both were a hit specifically with the temperatures starting to rise end of February. The Splash is a watermelon and mint cocktail, whereas the Rising sunshine was an Orange Pineapple cocktail. Bot were refreshing and looked pretty good too.
Coming to the food, this place is trying to combine food and art. They call it a Globally inspired and locally sourced cuisine. It works most of the places but some places it looks like gimmickry.
We ordered the Wada pav sliders, Magic mushrooms, Bhakarwadi millet chaat and something called Pop goes my heart.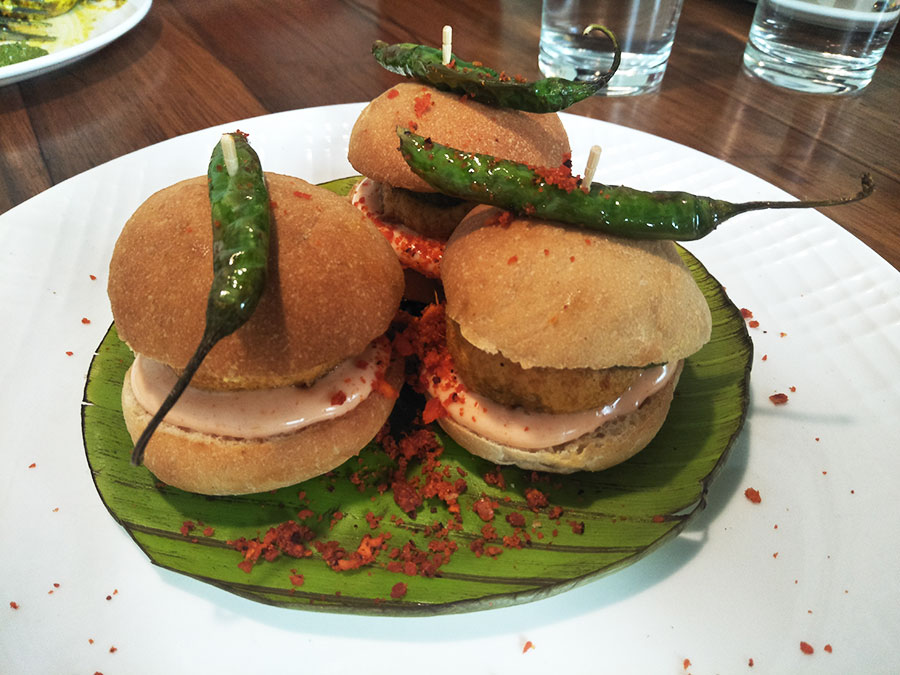 Frankly, apart from the wada pav sliders, the others did not stand up to their names.  Mushrooms were like any other tandoori stuffed mushroom. For the Bhakarwadi Millet chaat, I got the taste of the bhakarwadi in the third spoon that I had.The Pop goes my heart was fried ravioli stuffed with Simla Mirchi (capsicum), this was a disaster.  The ravioli was put up on satay sticks and was soggy with not enough stuffing. A normal ravioli is soft, but not sure why I would have a fried soft ravioli. It did not really appeal to me. I think they should reconsider doing something different with that.  Too much done in the name of fusion.
The highlight was the Wada pav sliders, the thecha mayo was good, the green chutney was excellent,and they tasted well. So standard Wada pav does stand out here.
In the main course, I loved the Dal pe Dal and Show me the curry.  The fried moong Dal wadi on the Dal pe Dal was a good idea. This was cooked the Bengali way.Recommend this if you are in a mood for some Dal.  The curry had mixed vegetables, went very well with the lachha paratha.
Wrapped the whole thing with a Moti-choor Cheesecake.  This was fusion come correct. Do try this. I have a sweet tooth, and anybody can win me over by giving me a sweet surprise.
Approximately Rs.  500 per person without alcohol is become the norm now.  But an oldie like me would have preferred something marginally lower.
Perfect place to go with family and surely a hit for the vegetarians. I think Karlo checks most of the boxes for a Sunday afternoon meal.