Upsouth Chandani Chowk, Bavdhan Pune
Let me confess, that I have never gone to any Upsouth Outlet anywhere in India, so no ground of any comparison at all.If I were to define Upsouth, it portrays itself as a South Indian food outlet with a decent spread of offerings, which are supposed to be served quickly.
The interiors are decently done and looks more like a café, which is quite comforting. The menu is simple. I went for breakfast at around 8.45 am so will not comment about the lunch menu as of now. The restaurant is supposed to open at 6 am, which is nice and early for catching the running and the walking crowd around this area.
We ordered for a Paper Masala Dosa, wanted a Parota with Dakshin curry since that was not there ordered Poori Bhaji, upma, idli sambar and filter coffee. Upma and Idli Sambar were parcelled.
The filter coffee came in quick and was a excellent way to start the journey of Upsouth.
I got the Paper Masala Dosa, upma and idli sambar in about 5 minutes which is nice. Upma idli packed in a nice box. The poori bhaji call never came.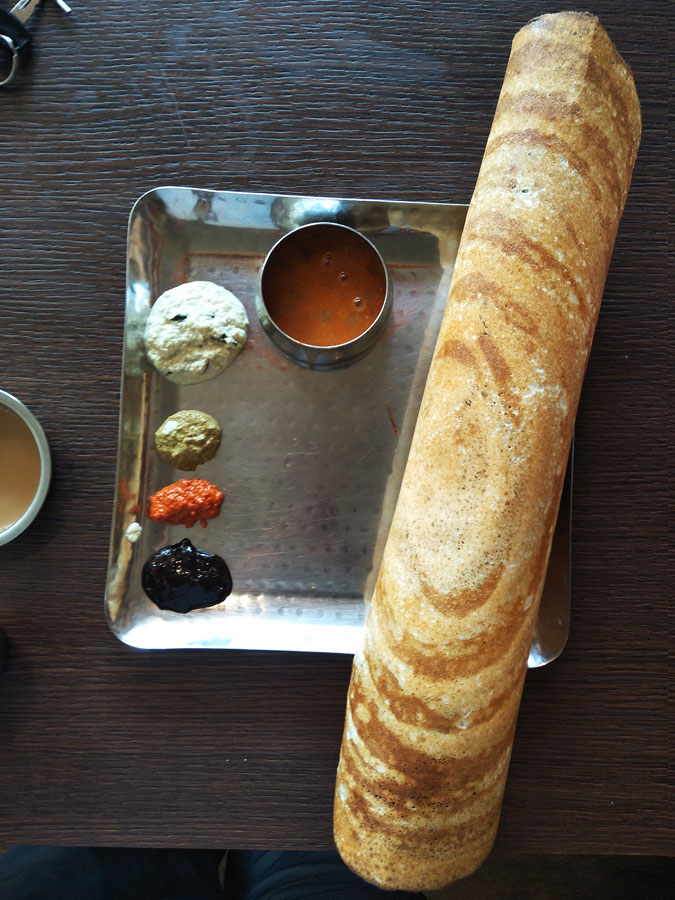 On what the food was all about, well the food we got 5 mins later, I expected it to be hot. The dosa was cold and the masala inside was ice cold. The sambar was just about warm. About the taste, I liked the masala in the dosa, the basic coconut chutney hit the right places on the tongue. But the sambhar gave me the feel of packed food.
I could relate it to the taste, when I am travelling and must have a dosa or idli at an airport. Specifically, Bangalore. Not sure, if Upsouth has or had an outlet there.  So, there is surely something packaged about the Sambhar, will need to find out more or dig into how a place like this works. This taste I can also feel in other popular chains which have mushroomed over the last 8-10 years.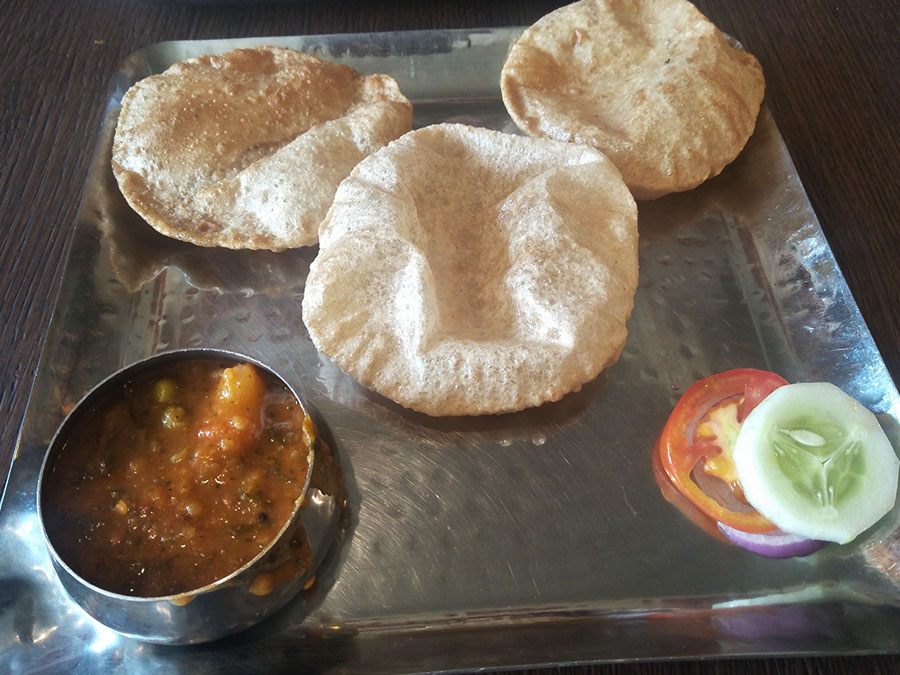 The bhaji with the puri was hot, tangy and a bit spicy too. The right sized pieces of potatoes and just what I like with the pooris. Just that the poori bhaji landed on my table only when I went and asked for it. So, they do take the Self – Service thing seriously, they ensure that you go and ask for it else they will surely send it cold. Sorry, for the rude remark here, but, when food is fast, it needs to be hot.
The upma and the idli also looked like coming out of mechanised cooking and you could make out the packaged feeling. The kind, where if I took an upma on the aircraft, where they would pick up a box and add some hot water to it and ask you to keep it closed for 8 mins and then eat. I know for sure that it is not packaged here in those terms, as I could see the containers of ready upma.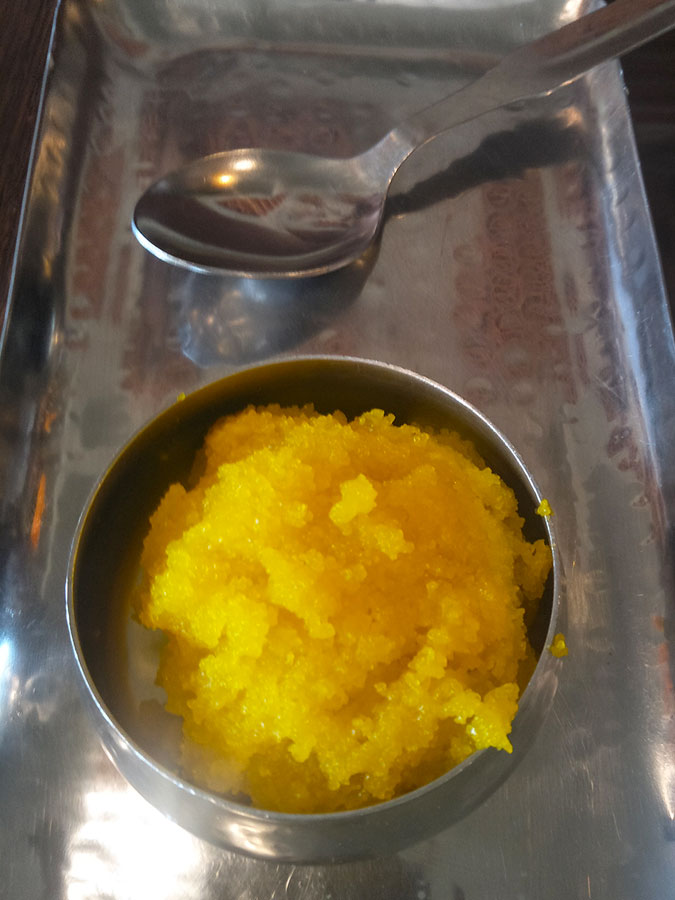 They served a sweet called, kesari bath, as complimentary dish with the poori bhaji…… since I have a sweet tooth, I just hoped that it was something which would change my mind of such a place. Believe me the quantity that you see in the photograph was not completed by 4 people. I could have alone swooped anything sweet.
I will go there again for a lunch and surely try their porota. It's just a month-old restaurant in Bavdhan, so possibly needs it's time to settle down.  I could also make out in some manner that the people behind the counter were not happy …..happy. I hope you understand what I mean here. They need to get their act together here soon as they can attract a good crowd from Bavdhan, Pashan even Warje I think.
Overall, I was waiting for a good South Indian food place to come to Bavdhan, but I would still prefer to go to Baner or to Kothrud to get my fix of dosas right.