How did the Chembur food walk Happen
I was on a work trip to Mumbai for two days. Earlier, I was going to stay somewhere around worli or byculla, when a phone call with two friends who had attended my food walks in Pune happened. They asked me to stay with them and mentioned that they had a surprise up their sleeve.
Their office is in Chembur and he asked me to come there.The plan was to reach chembur and then we would drive to his house together from there. As soon as I reached chembur, they said, they were taking me for a food walk. I never expected this to happen to me and was pleasantly surprised.
Chembur Camp
The road they decided to take me to is called Camp in Chembur or D C Road. Sindhi's occupy most of this area, as Chembur was one of the larger refugee camps after the partition. This area is like a market area of chembur but much better known for its food. Many of the Sindhi's who came into the refugee camp also set up their shop here.
It was around 19:45 that we started our walk. We started walking from Collector's colony. It's a busy road at that hour. The honking can kill you. Well as soon as you cross over, one is fine and adjusted to the chaos. We first went to Sindh Panipuri house. This panipuri place is started in 1951 and is obviously 65+ years old.
Sindh Panipuri – Need I say more
We had the panipuri here and a plate of mixed pakodas. Panipuri has a distinct sindhi flavour to it. The mint water or the paani in the puri had asweetish / sourish taste which somehow reflects in all sindhi food. It possibly comes from the use of tamarind in many preparations or also from the use of dry mango powder. Once you have the panipuri you also understand why a place like this could run successfully for over half a century.
The next on line was mixed veg pakodas. Pakodas are any Sindhi's delight. Believe me it's a feast, when someone comes to our house or we decide to have pakodas on a evening. You will get a large full bowl of these golden yellow crisp outside but soft inside balls straight from god's recipe book. That is dinner for us. Yes!!! you heard it right.
He topped the veg pakodas with curd, boondi, tamarind chutney and green chutney. The mix of the pakodas in the plate were the besan fritters (sannapakoda), egg plant pakodas, chilli pakodas (a favourite of most sindhi's) and potato pakodas.  I generally do not like the chaat-ification of my pakodas by addition of the curd etc. But, what the entire plate had was a mixture and the flavours of all the pakodas I have been having for years at home. I am amazed at how a simple pakoda can change from shop to shop and home to home. I immediately realised that it could only be a Sindhi who would cook the pakodas in this way.
The cholle tikki wallas — Vig Refreshments
We just crossed over to the other side and the very famous Vig refreshments was waiting for us. Another 60+ year old outlet with a typical Sindhi menu of daal pakwaan, chaap, chole bhature, chole pattice, samosa etc. Will paste a photograph of their menu here.
We had the chole pattice to start off with. The pattice is basically a aloo tikki shaped as a heart and stuffed with spiced daal. It is kept on the hot girdle for a very long time for display and it really becomes nice and crispy outside and very soft inside. But what was the most important part was the taste of chole and of the pattice together.
What you get in a Sindhi outlet is the flavours of a very homely garam masala. The kabuli chana was cooked in a black gravy, the one that you get with bhature in the streets of north. People say that chole bhature are to die for there and now I know why it is truth.
The next was the samosa at Vigs. The authentic samosa in Maharashtra has lost its way somewhere. The easiest way to find a samosa in Maharashtra is in a sweet shop but they stuff the same potato mash, in the batata wadaand the samosa. Very few places who genuinely make it authentic. The major difference was that Vigs Samosa had whole coriander seeds in it. The seeds add a very distinct flavour which is neither spicy nor sweet but somewhere in between. By the time you enjoy that flavour, another flavour that hits you strong is the fennel. The potatoes are not completely mashed like in a batawada, they are large bite sized pieces. The garam masala used, is again a typical Sindhi styled preparation. The covering was a perfectly cooked flaky samosa cover shaped to precision.
Was in a mood to try the chole bhature but had a lot more to eat and I had tasted the chole anyways with the tikki. Hence left it for a later date. I have now got multiple reasons to go back to chembur.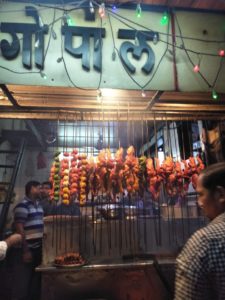 Walking down from there we walked past famous non-vegetarian places like Kings and some more inside a small little lane. But my friend being a vegetarian stayed away and I respected his feelings to stay a vegetarian for the evening.
One more namkeen shop — Mumbai Farsan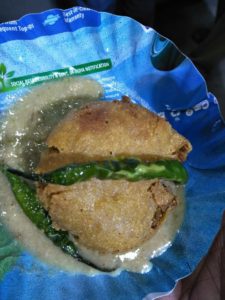 We stopped at another place called Mumbai Farsan. It is another Sindhi Sweet & Snack shop in that area. The specialty of this place was the batata wadaand the jalebi and fafda. I had the batata wada and it was different from the wada you generally taste on the wada pav carts in Mumbai or Pune. This one did not have any onion, neither I believe there was any garlic. There was a lot of garam masala and it was probably fried twice. The batter was thicker, and I could feel a lot of soda in the batter.
Coming back to the homely garam masala, this had a fair amount of it. The garam masala is loaded with black pepper powder, cloves and cinnamon sticks. Served with fried chillies and a brown chutney by the side. It was a unique experience. Fortunately, without the pav for a change. We packed some jalebi and fafda too. The fafda was fresh and of the perfect taste that it deserves.
Who does not know Jhamas (The King of Sindhi Sweets)
Moved on from there to the famous Jhama for the sweet craving and was so glad to see a huge stall of gajar halwa being served outside the shop with crazy amount of dry fruits. It told me its winter time in Mumbai too (now that is surely an oxymoron) . Winter in Mumbai?  The gajar halwa was made from Mawa and the large cannister of halwa was tempting and we did try that. It was exactly how mom makes it at home, but we do not use ready mawa. We put hard work in it by cooking the milk and the carrots together for an hour to reduce the milk and get the carrots cooked well.
Jhama is known for its Sindhi sweets and specifically the world famous gulab jamun. Singer ji mithai or Sev barfi for one is my personal favourite from there.
In addition to that, there were a lot of packed winter sweets like revadi, borinda, gajak, sindhiwado etc which was on display at Jhama's. Sev Barfi and other winter sweets were packed for the family in Pune.
Desserts and more — Sai Sagar Rabdi Falooda
Walked and crossed over the road to Sai Sagar for Rabdi Kulfi Falooda. If there is a heaven in food, it is in the falooda and kulfi. Desserts are overdone with the sweet factor quite a few times. It is an art to get the sweetness right in your product to the likes of everyone. This is what makes you famous and long lasting. That is what Sai sagar is about.
So, from Panipuri to Falooda, a good hour of food walk in chembur came to an end. Am delighted to see so many sindhi street food outlets and would like to explore more of the non-vegetarian items when I am back next.
Hope you enjoyed my journey through the D C road of chembur alternatively Chembur Camp. Look forward to doing more food walks with like minded people all across India and share my journeys with all of you.