My personal vada pav trail
My earliest Vada pav
The earliest I remember to have eaten Vada pav is at home. I was possibly 9 or 10 years of age. We did not have it with pav but with sliced bread and green mint chutney made at home. Sindhi's have always been known for their fried food and this was an addition to my mom's repertoire.
We were a family who never went out to eat and hence the first time I had street Vada pav was when I was in college in 1987 -1988. The college canteen bun wada. A huge sweet bun with a batata wada inside it with a tangy chutney to go with it. College canteens have this mystic pull towards them and were always buzzing with activity. But, still the taste of the hot spicy vada with the sweet bun is still stuck in the head somewhere.
There was also this new tapri (stall) outside Garware college, just opposite the main gate. There is some clothes shop there now. I used to specifically love the vada pav at this stall. This stall no longer exists, but the kid there used to fry the vadas when ordered and serve them hot. I distinctly remember the taste of the excessive garlic and curry leaves he used in the vadas. Was a good stress buster, after you saw your under average tutorial / test scores.
In the score of years that have gone by, I have eaten vada pav from almost all known and some unknown places in Pune and remember the taste to be distinct which gets etched on your mind.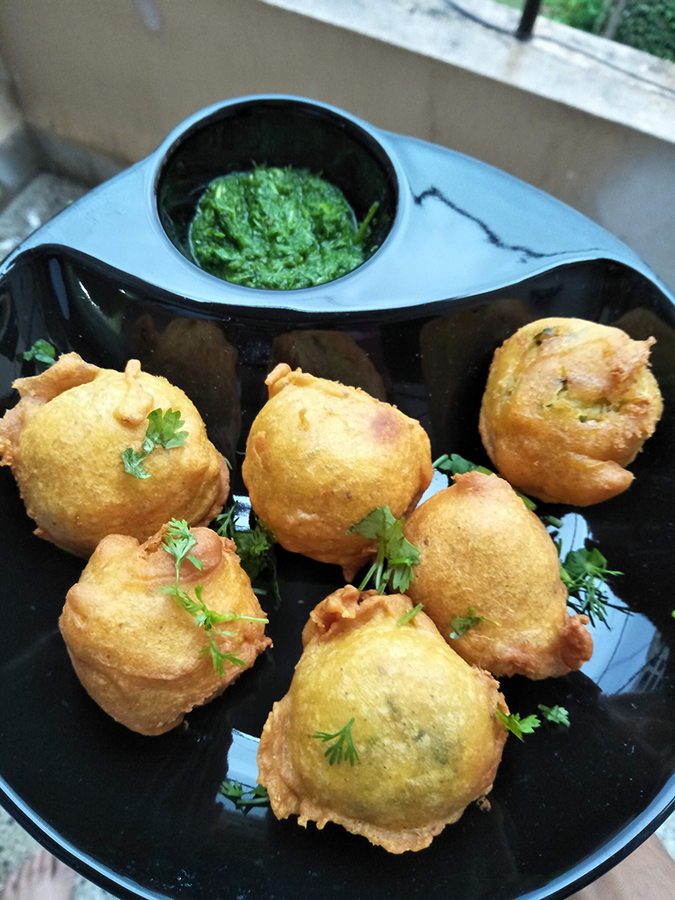 Some distinctive Vada pav places I have eaten at
Starting with Bharti vadewale opposite Balgandharva rang mandir. We used to cycle from Garware college to this place and remember very clearly there used to be a big crowd at both these places of Bharti and Joshi (next to each other). Believe me, we used to go to Bharti vadewale. The reason was,  because, not only did we like that vada pav but also it was cheaper. The vadapav at Joshi vadewale was Rs. 1.25 paise and at Bharti it was for Rs. 1. Yes do not rub your eyes, you read it right (hiding my grey hair).
Then there was another vada pav stall, which I believe still exists opposite Garware college but this one is next to Sahayadri Hospital on karve Road. He still sells the same vada pavs and a variety of other things. I have stopped at his place, whenever I have had the time now or for some unfortunate reason must visit the hospital.
Only for nostalgia.
The other vada etched in memory was during one of my first jobs in 1994 on Bhandarkar road. There was a canal side road which used to start from Bhandarkar road and open up at BMCC. There used to be a street cart run by a couple there. They had small batata wadas and would fry them around 5pm in the evening. That was the evening snack on almost a daily basis. I do not think that cart is there anymore but the vada had made a mark. Everyone has a place a place, during the yore, when you knew you could catch friends there (without whatsapp confirmations). This was the place for us.  The kadak chai, vada pav, talk and of course a few smokes.
The king of vada pavs
Garden vada pav, which I had for the first time in 1997 (or around that time). They still have the same taste, the same pickled chillies and the same chutney spread on the bread. Only the price is higher by 4 times now.
They became highly popular after they won the Radio Mirchi best vada pav of Pune award. Near the parsee agyaari they are still the small cart. They are a largish shop at Nalstop and happy that they have the same quality in both the places.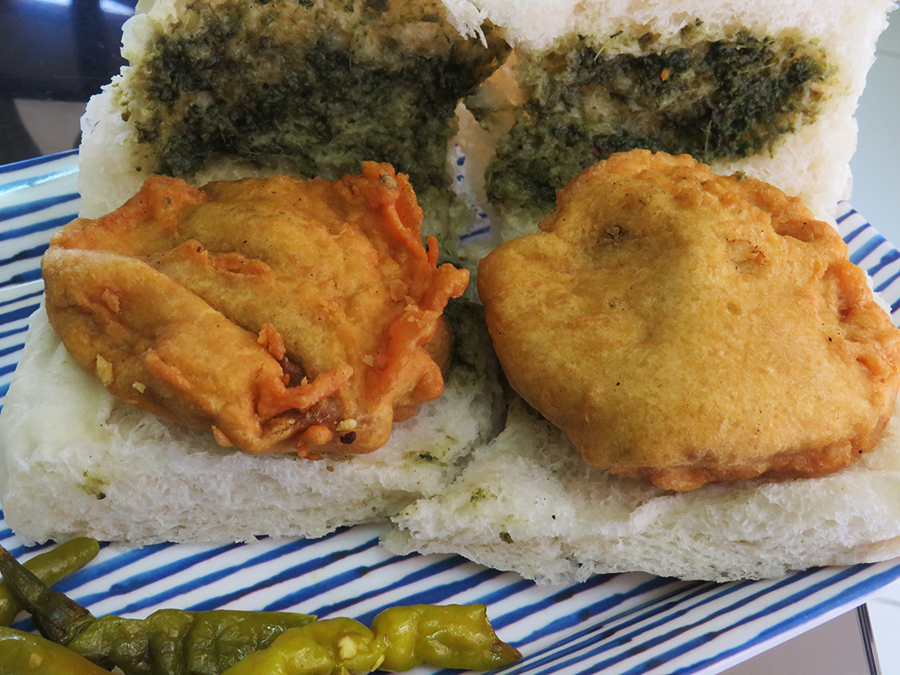 Prabha Vishranti Gruh – Hey tar vishesh…….
I am sorry but although I am a Punekar, I had not had this vada till 2002.  That makes me a bad Punekar. "Punyat asun, Prabha Vishranti Gruh cha vada nahin khalla?" (Said with a little bit of nasal tone from Narayan & Sadashiv Pethi people)
Need I say more about this place, the vada is a complete meal here. One does not need any chutney to fried chillies to get your additional flavour buds titillated. It has a gingery, sweetish flavour to it with lots coriander. The flavours are so balanced that I never wanted a chutney with it.
The only problem with this place is that
Amchi kuthei hi shakha nahin (we do not have any branches)
Maal Sampla (stocks over), within one hour of opening the shop. We are not enterprising enough to make more. Mah Shop Mah rulz……
Shree Upahar Gruh……. Misal and Vada
This place is famous for the homely misal the Bhide's make here. But, the vadas are also extremely good. Another place where ginger, garlic and curry leaves really make the vada stand out. The shape of the vada is also homely, not the gigantic ones that you find on most vada pav stalls.
Shree Krishna Vadewale…2 vada one pav
I like this place because he serves, really hot and spicy vadas (I sweat when I eat always) but the uniqueness is that he has a large pav and two small vadas in it.
Rohit Vadewale
Their vada was gingery and extremely tasty when served hot. This was one of my favourite vada pav destination in 2008 – 2010 when they had opened their branch in Baner. Guests to my office and all of the team members loved to have this almost on a daily basis.
Unfortunately, I do not like café model, built by them. The vada seems frozen and flat. Also, looks like they have converted all their regular outlets also to use this style of vadas.
The next one on the list is some place unusual but for me this is the kind of consistency to be maintained.
PMC run theatres – surprised right?
Yes surprisingly, Balgandarva Rang Mandir, Yeshwantrao Chavan Hall, Tilak Smarak Mandir all run by PMC and have the most amazing vadas. A break in these theatres is a waste without eating the vadas there. Take my advice and try the vadas at all 3 places, you will not regret it.
There would be plenty more I am sure. Share your list of the best vada pavs you have had in Pune and lets have some fun punekars.