The Humble Poha / Pohe for some
Well known as the humble gift to Lord Krishna from his friend Sudama, Poha / Pohe (beaten rice) is a quick breakfast, snack, lunch or dinner. The distinct yellow coloured, carb filled snack is liked from the kids to the adults.
The Variety
Popular throughout India, this humble dish has a variant every 100 kms or maybe lesser. I had the opportunity to travel the north western part of India like Western MP, Gujarat and Rajasthan a few weeks back and tasted maybe 5 – 6 different types of Poha. Hence thought I would share the experience of at least 3 different places.
In Rajasthan
Starting off from the temple town of Nathdwara, located 50 km from Udaipur. Coming out of the temple of ShreeNathji after the morning darshan you see quite a few shops selling poha and dhokla and obviously tea.
People visiting the temple are generally Vaishnavs (coming from Gujarat or Rajasthan). Vaishnavs are vegetarians and have a lot of constraints on their food intake likethe Jains. Hence this poha is soaked and then fried with a little bit of mustard, turmeric, sugar and salt and topped with a bit of plain thin sev and lemon.
Savoring this with tea served in a kulhad (cups made of mud / clay) boiled with lemon grass, ginger and tulsi (basil leaves) near a famous temple is an experience of its own, of course you must remove the weekend crowd from your mind to enjoy this.
In Madhya Pradesh
On the way back to Mumbai the train stops at two places. The first one was at Nagda, Madhya Pradesh. I again had Poha here which was cooked in a similar way like that in Nathdwara, the only difference being that this time it was topped with mixed namkeen, raw onions and a tangy chaat masala which gave it a unique flavor. I had never tasted poha like this in Maharashtra. Chaat masala on Poha?
Just about 30 mins down further south at Ratlam, famous for its ratlami clove / black pepper and garam masala filled spicy sev; I had the taste of the next variant of poha.
Sev is a boon for snacks in India, it is a topping in almost all Indian snacks. In Ratlam, the Poha was cooked with masalas like coriander seeds / powder, turmeric powder, red chilli powder, fennel powder and ginger powder. Topped with Ratlami Sev and raw onions and some red boondi, served with jalebis (yes jalebis). This style is popularly called Indori Poha.
We all look forward to the ratlami sev but surely the Poha at the station is unbeatable too. And recently a new trend has started where in sweetened petha is sold too which was typically a sweet coming from Agra in Uttar Pradesh.
In Maharashtra
Kande Pohe
Coming back to Mumbai the Poha has a completely different preparation. Kande Pohe, that's what its called in Marathi. Here, instead of being topped with raw onions, finely chopped onions are sautéed in oil with mustard seeds and curry leaves to which soaked Poha is added and the rest of the ingredients mixed.This mixture is then topped with a sprinkle of lemon juice and some nylon sev (very very thin sev also called zero sev by some)
Dadpe Pohe
Another variety in Maharashtra is called Dadpe pohe. This is actually soaked but uncooked poha mixed with coconut paste and tempering of green chillies, mustard seeds, curry leaves, onions and turmeric powder. This mixture is then covered with a lid and pressed on hard for about 10-15 mins. This process makes the poha absorb the coconut paste. Dadpe pohe is again a quick, easy and healthy Maharashtrian breakfast.
Dahi Poha
The other variant here is Dahi poha. Poha is washed and soaked with curd. Mixed with a tempering of mustard seeds, curry leaves, green chillies and turmeric powder. This is a slightly sour-ish preparation of Poha. This is also called Gopal Kala at a few places and many a times is used as a prasad for Ganesh Visarjan too.
But, this is the way I like my Poha (obviously being born and brought up in Maharashtra the recipe does have a Maharashtrian flavour to it)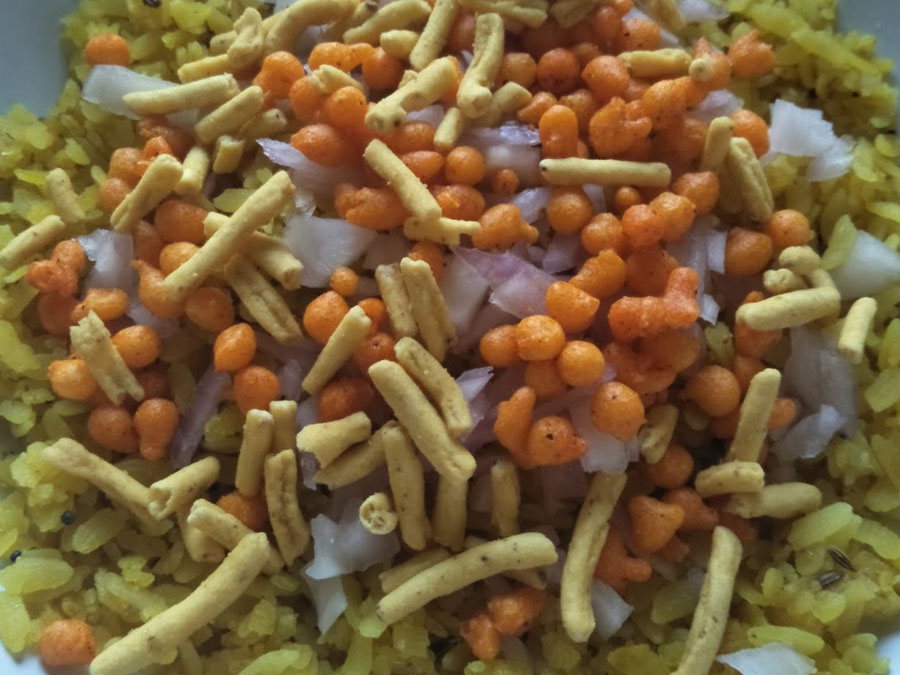 Ingredients
3 cups poha (flattened rice)

1 big sized potato chopped into small & thin cubes

1 big sized onion chopped finely

2 to 3 green chilies chopped finely

10 curry leaves

Handful of peanuts

½ cup of green peas

1 tsp mustard seeds

1 tsp turmeric

Salt as per taste

½ tbsp lime juice

Some chopped coriander leaves
Instructions
1
Take poha in a strainer. Wash it under running tap water for 1 to 2 mins. Keep the poha aside and let the water drain.
2
In a Kadhai or wok or frying pan add some oil place it on high. Add the mustard and wait till it crackles, then add the curry leaves and add the chopped potatoes with the ground nuts.
3
Saute the chopped potato cubes until they start becoming soft.Just before they are completely cooked add the green peas and onions in along with the finely chopped green chillies. Add just a little bit of salt if you like at this point. It just makes the cooking faster, but yes it makes the food lose some nutrition.
4
Once the onions are transparent the green peas also would have got cooked by then and the potatoes also soft (takes about 2 – 3 mins of sautéing)
5
Add the turmeric and lime juice and salt for the veggies.
6
Sauté a bit and add the poha. Add salt for the poha separately now as it mixes perfectly well then.
7
Mix well and set the heat at minimum and let the poha cook for a 1 – 2 mins.
8
Garnish with coriander and I like to top it with Bhujia Sev.
Notes
A twist of my own serve it with white sliced bread, just love it in that combo with some hot masala chai. There you have it. Have fun.