Super Food Spinach
Some History
I am a kid from the 70's and 80's. There were Popeye cartoons and Popeye Nintendo video games (the ones with the screen of the size of a mobile phone and two buttons for steering left & right and fire. Popeye had this can of super food tucked into his shirt all the time. Whenever he was going through a tough fight with Brutus, he would take that can out and pour it into his mouth. Lo & Behold he then had all the energy to beat any fat guy. Popeye was the favourite cartoon as he always saved the girl after the fight. The super food he had was spinach and his girl friend's name was Olive Oyl. How apt for a healthy mix of strength and energy.
I grew up watching Popeye and coming from a Sindhi family; regularly eating Sai Bhaji. Mom always told us about the iron content in Spinach and how it keeps the skin and hair healthy. She made varieties of food with spinach. It had become the family food of all times.
Benefits of spinach. Why is it a Super Food?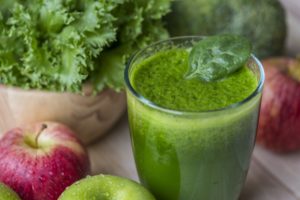 Spinach / Palak is a super food all over the world. It is an all rounder which provides Vitamins, minerals, proteins and iron (have I missed out anything?).
Spinach is high on dietary fiber and hence always recommended to keep your bowels clean and a healthy gut. A healthy digestion system, according to Ayurveda is the key to fitness and a healthy life. It is also used to keep a tab on blood glucose, in effect reducing the chances of diabetes. Also known to keep your skin and hair healthy. Some of the newer studies also suggest that Spinach keeps cancer at bay due to certain anti-carcinogenic properties.
A versatile veggie – Cooking Spinach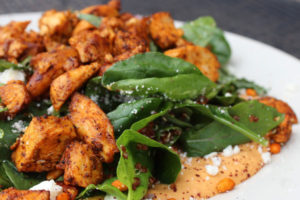 Spinach can be
Blanched and mashed to be made into a shorba or soup
Pressure cooked along with various other vegetables to be made into meal of its own
Cooked along with rice for a complete carb, protein, vitamin filled meal.
Put into a salad to add to the nutrition and the colour
Stuffed into a sandwich mixed with Mayonnaise
Cut and mixed with Whole wheat flour to create a dough and make Palak Parathas
Finely chopped and added into yoghurt and you could savour Palak raita
Kids & Palak
I have heard parents talk about children not having spinach for the look and feel of it. I would not recommend keeping the kids away from Spinach as it is the best wholesome food a kid can get. Here are some quick recipes to make it interesting for the kids.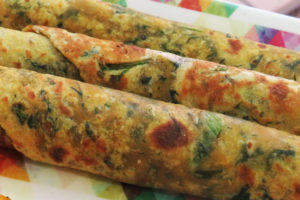 Spinach Recipes:
Palak Puris – Blanch and blend Spinach and mix it with 1.5 cups of whole wheat flour, a little bit of oil, garam masala, a tbsp of gram flour (besan), red chilli powder and water. Make a hard dough. Make about 12-14 balls out of the dough. Roll them and deep fry them to make Palak Puris. I have not yet seen a kid who refuses to eat a puri.
Palak Cutlet – Blanch and blend some palak, boil and grate beet root, mix it with mashed potatoes, finely chopped green chillies, some garam masala and salt. Add some bread slices soaked in water in the mixture and mix well. Make flat balls out of it and roast it like a cutlet. Serve it with a mint & mayo dip.
Corn & Spinach Sandwich – Boil half a cup of corn kernels, Chop & Blanch some Spinach. Mix them both with 2-3 tablespoons mayo. Add some black pepper and a tsp of mustard paste (if you have). Stuff the mixture into 2 slices of brown bread and grill. You have a healthy Corn & Spinach Sandwich
Palak Soup – Sautee onions, Boil chana daal, Spinach with a couple of green chillies. Blanch a tomato, remove the skin and now blend all of them together. Add salt & pepper for taste. Adjust the consistency with water. Top it up with butter and serve hot. This Palak soup has magical properties. You could add carrots & potatoes while boiling, to add more nutrients to it.
Palak Paratha (Full Recipe here) – Wash, cut & blanch Spinach. Add it to whole wheat floor along with some mashed ginger, chilli, garam masala and salt. Add water to knead a dough. Roll it to make a paratha. Tawa fry the paratha. Top up with some butter and add a side of mango pickle while serving.
Simplest would be to put the kids on YouTube to show them some Popeye cartoons.
I could continue writing all the interesting dishes that Palak makes possible. It just requires the will to make your kid eat healthy and a little bit of creativity in the kitchen.
My favourite spinach foods are Sai Bhaji, Spinach Sandwich, Spinach Soup and Palak Paneer. Whenever, anybody is sick in the house, there always is some Spinach soup ready to get the person fit and running.