The Kebab Love Story
Love at First Bite
This started when I was just about a teenager and had started to appreciate the taste in various foods. Dad was in the Middle East and we used to visit him often there in the holidays.
We almost set a routine to Dad's off days there. The entire family used to walk on the beach in the evening. The beach was just across the road from our house. While walking back we used to stop at a shop who used to sell Khaboos (Arab large tandoori roti) and seekh kebabs. He used to serve them with fresh mint leaves and a slice of lemon. We used to parcel these kebabs in aluminium foils and eat them at home.
As the name suggests, mince-meat, mixed with some ginger, garlic and masalas, put on skewers and cooked on open charcoal fire is what is called seekh (skewer) kebab.
The typical way it is done when sold on the street side is, that there would be a thick layer of burning charcoal in a metal pit kept on a platform. On one end would be a small fan attached to the pit, so that the wind, keeps the charcoal burning. The skewers are then placed on a stand above the burning coal. As the meat starts getting cooked, it becomes moist and turns nice and shiny. The job of the fan is not only to keep the fire going, but also to spread the smell of the meat being cooked.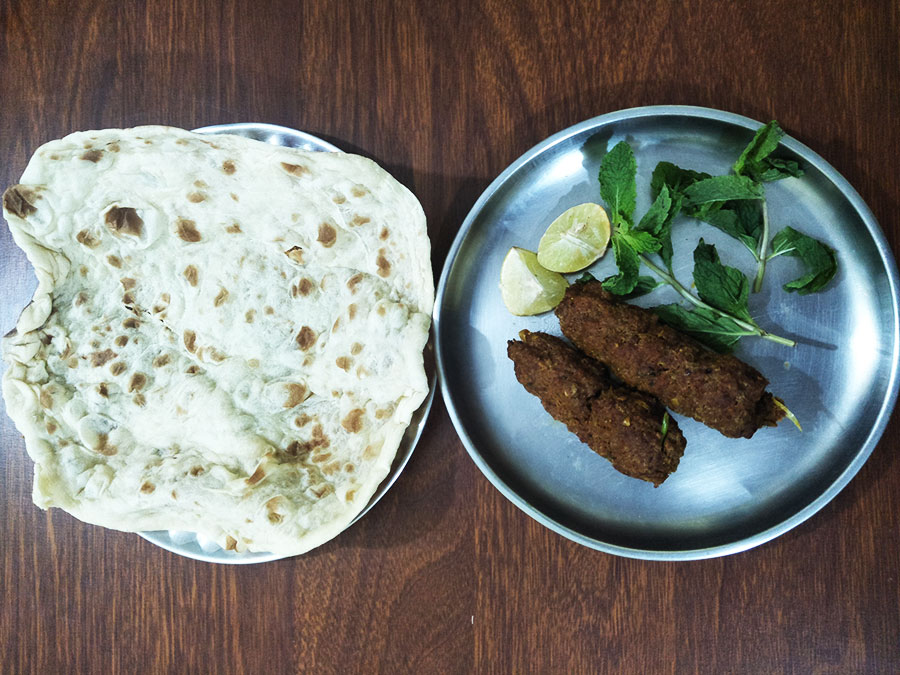 Like they show in the cartoons, I used to literally float till the shop from the beach, as the smell of these kebabs made me fall in love.So, for me it was "Love on first taste" with this sinful kebab.
Boti kebabs
The second incidence is also related to travel but to New Delhi. As teenagers, we were not really allowed to travel around in Delhi much without the seniors being around. But I remember we used to walk from Rajendra Nagar to Shankar Road nearby. There used to be quite a few eateries and of-course a decent shopping area.
While walking to that place, there used to be a person with a sigdi on the road and open coal fire. He would make something called boti kebab. Small chunks of well marinated meat cooked on coal till very soft and some parts of the meat burnt in the process. This too turned out to become a routine for Delhi vacations as kids.
Where do we find such street food here in Pune?
Radio Hotel
Well there are quite a few in Pune cantonment area near Shivaji market and the one I have eaten for a long time is called Radio Hotel. This hotel was started in 1960, so almost a 60-year-old place.
They serve a lot of Indian and Mughlai items, but I have always to stuck to what I like best there and that is the seekh kebabs. You can call for a tandoori roti and they serve the same large tandoori rotilike my first love in the Middle East. The kebabs are served with fresh mint leaves, lemon and a bright red coloured Onion chutney.
In addition to the seekh, they have also started serving Shwarma and rotisserie grilled whole chicken.  They also have a lot of gravy-based dishes, which are quite popular with the crowd there. Frankly, I have gone there, just because it replicates the taste of the kebab exactly in the same manner as my love on first taste was.
Where else do I find people cooking and selling seekh kebabs in Pune?
I do not find this kind of street food in the suburbs of Pune, specifically around Bavdhan, Baner, Aundh or Kothrud. I mean we do get these kebabs in restaurants, but I am talking about street food here.
You get a lot of those during Ramzan. The shops come up during Iftar to serve all the lovely kebabs possible.
I have also heard about an old man running a kebab cart somewhere in Kalyani Nagar but have never had the opportunity to reach him and have the kebabs he makes. Also, recently, there is another retired uncle who gets his food truck in the same area. Have heard that he cooks up some delicious barbecued meats. It/*- has been on the social media quite a bit. So, yes I have to hunt them down and get my hands on the food they make.
Other kebab love?
Yeah there is a whole variety of them out there. Can discuss those in a separate piece some time.