Sindhi Saadi Koki
Koki is a frequently eaten breakfast dish in a sindhi household. We prepare the koki in a couple of ways. The most famous is Basar ji koki (koki made of onions) and the other one is the Saadi koki (plain koki without spices). Most of the cuisines in India have a dish which has some grain flour mixed with spices and eaten; the best example I can think of is the Thalipeeth in the Maharashtrian cuisine. Koki and Thalipeeth are not brother sisters but slightly distant cousins.
Sindhis make koki in two manners
Saadi koki recipe given here.
Koki, is a flat bread or pancake; in the terms that the people from the west look at it. The difference in this koki is that it is not spiced at all apart from a little black pepper. I believe this was created for the vaishnav sindhis who stay away from onions and garlic and excessive spices. Although for vegetarians but the best accompaniment for this koki is a sunny side fried egg.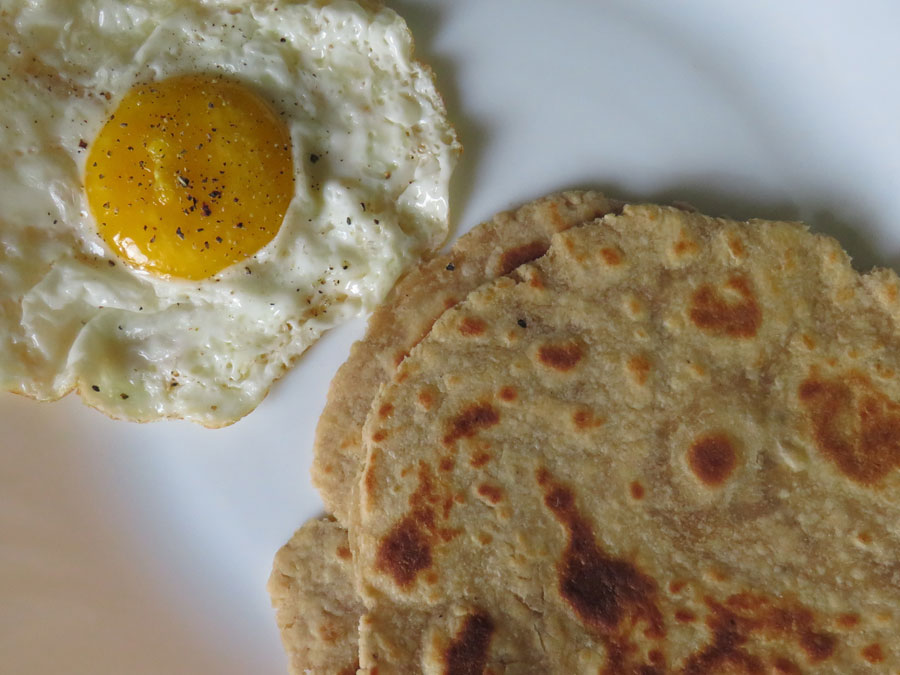 Ingredients
2 cups Whole Wheat Flour

2 tbsp ghee

1 tsp pepper

1 to 1.5 cups of water
Instructions
1
Add the flour into a bowl
3
Rub the ghee into the flour, keep rubbing the flour till the ghee is completely soaked in
4
Add the salt and the black pepper powder
5
Keep adding the water and mixing the dough till you have the dough good enough for chapatti making.
6
Please note the dough should be of soft.
7
Let the dough rest for 10-15 mins (if possible)
8
Divide the dough into 8 equal pieces
9
Take each divided ball and roll on a rolling surface like a thick chappati
11
Transfer the chappati to the tawa and cook on medium flame on both sides.
12
Apply generous oil on both sides of the koi and increase the flame of the gas and let is cook on both sides till darkish brown
13
Koki is ready to be served.
Notes
Koki is best had with a bowl of curd or a cup of chai or my favourite a sunny side up egg. Enjoy your koki