Sehar Chawar
Sehal Chawar is a quick fix meal from left over Rice (called chawar in Sindhi). Chawar can be replaced with Dhabal (bread) or Phulka (Rice). The process would almost remain the same with little variations depending on the core ingredient.
Leftover management is what you learn from the person managing the kitchen at home. Most of the cuisines and households would have their own way of using leftover stuff and that would be repeated so often that it would become a part of the culture.
The Sehal Process
Sehal anything is a process where onions, green chillies and tomatoes are used. This is used to make a lot of meals. These meals can be had anytime of the day.
Here I quickly pen down what I would do in making the Sehal Chawar a tasty fix for snack or for breakfast.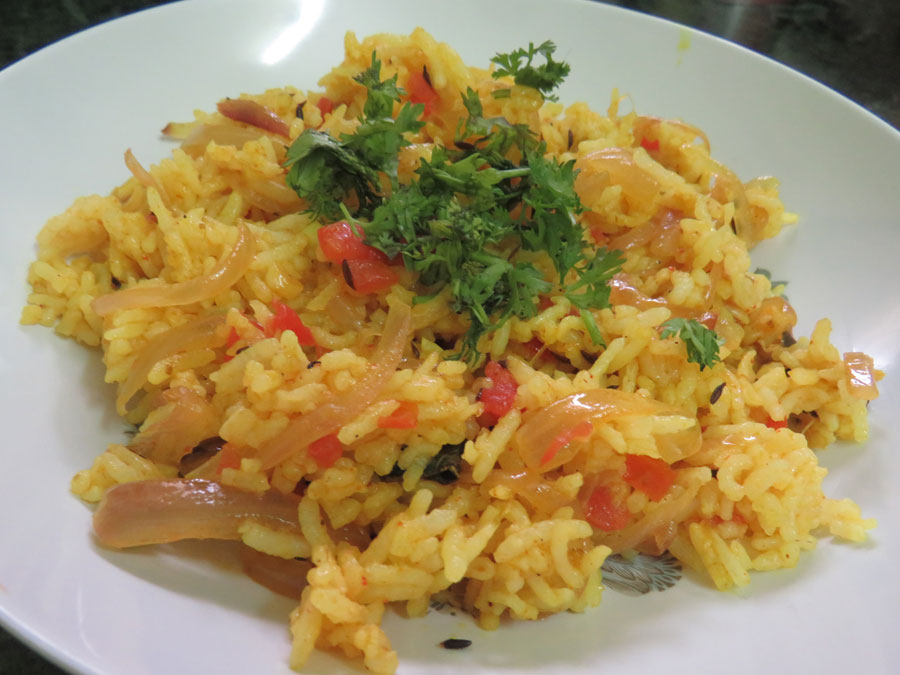 Ingredients
A medium sized bowl of leftover Rice

2 finely chopped Green Chillies

1 medium finely chopped tomato

1 medium sized sliced onions

3-4 finely chopped garlic cloves

¼ inch finely chopped piece of ginger

1 tbsp oil

Some finely chopped fresh coriander
Dry masalas
1 tsp cumin seeds

1 tsp Garam Masala Powder

I tsp turmeric powder

½ tsp red chilli powder

Salt to taste
Instructions
1
Put a frying pan on the gas
2
Add the oil and let it heat up
4
After a little bit of splutter, Add the garlic and ginger, Sautee for a min
5
Add the onions & green chillies
6
Sautee till the onions are transparent
8
Sautee till tomatoes are cooked
9
Add the dry masalas and the salt
11
Now add the leftover cooked rice to the mix in the pan
12
Mix and let it cook for 2-3 minutes.
14
Sprinkle the garam masala and the fresh coriander
Notes
Sehal Chawar goes well with a bowl of curd