Seviyan Patata  / Saiyyun Patata
Sunday morning breakfast has always been a big affair in our family. The breakfast is discussed at length on Saturday evening and after a good debate would settle for what majority would want to eat and when it was Saiyyun, Patata & papad (Sweet Vermicelli & Fried Potatoes) there was no discussion at all. This sweet and savoury combination was a treat we always looked forward to as kids and even today.
Very very thin vermicelli (sevaiyyan in hindi or Urdu) are made from refined flour, these are popularly cooked with milk for making the famed Sheer Korma or the simple Sevaiyaan Kheer. They are also broken and used as a layer over cutlets before deep frying, to give them the crispy outside and melt in mouth inside texture.
As you will see, once more, a simple process to cook something so amazing. I am just documenting my mom's recipe here because as always nobody can make it better than her. Here it goes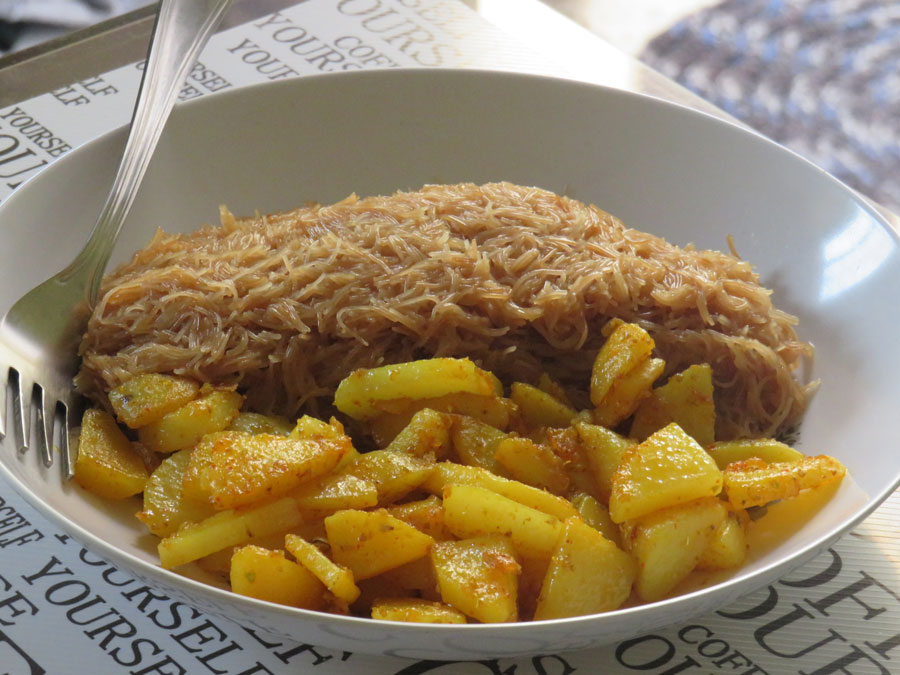 Ingredients
For the Saiyyun
1 cup of vermicelli crushed by hands

2 tbsp ghee

½ cup sugar

1 cup water

½ tsp cardamom powder

Few dry fruits chopped for garnishing
For the fried potatoes
4 medium sized potatoes peeled and diced

4 tbsp Oil

1 tsp turmeric

1 tsp chilli powder

1 tbsp coriander powder

Salt to taste
Instructions
1
For making the Saiyyun, put the ghee in a kadhai and let it warm
2
Add the vermicelli and saute till the time they get a good brown colour (Nowadays you get ready browned vermicelli)
3
Once they are dark-brown, add the water and mix
4
Add sugar in and mix again.
6
Close the lid of the kadhai and let is cook till the water dries up
7
Garnish with crushed dry fruits. This completes the process for Seviyan.
8
Now, for making the fried potatoes, add the oil in a kadhai and let it heat up
9
Add the diced potatoes, roll them in the oil well
11
Close the lid of the Kadhai and let them cook.
12
Keep mixing them every now and then.
13
Potatoes should get cooked in about 5 mins, check whether they are cooked by poking a fork into them.
14
Once cooked, add the spices and mix. Let it cook for sometime and switch of the heat
Notes
In addition, roast a few papads and enjoy the yummylicious breakfast. Sweet and simple. A combination like this is prevalent only in the Sindhi cuisine. I am impressed by the simplicity and taste. Although we have shifted to sandwiches, corn flakes and milk and parathas for breakfast, but saiyun patata remains the favourite for a Sunday morning meal

A small tip, break the papad and pierce the sharp end of the papad into the potatoes like a toothpick and have a piece of the papad with a piece of potato. You try it, whereas I go and eat it.