Sindhi Kadhi is a tangy, besan based curry with select vegetables. This is called wadi (big) kadhi in many households. The unique flavour of this kadhi makes it the most famous dish from the Sindhi Kitchen. Another dish which is cooked on a Sunday afternoon and savoured with family & friends. It's a celebration dish, it's a get together dish and no sindhi event would be completed without this unique flavourful gravy.
Like all other recipes, the kadhi recipe also changes from house to house (keeping the base same). Some like it dark and spicy, some light and tangy, some use tomatoes others use tamarind or a combination of tomatoes and tamarind, some even prefer a lemon to add to the zing.
I'll share what has been used in my house for ages. Let's get straight to the recipe then.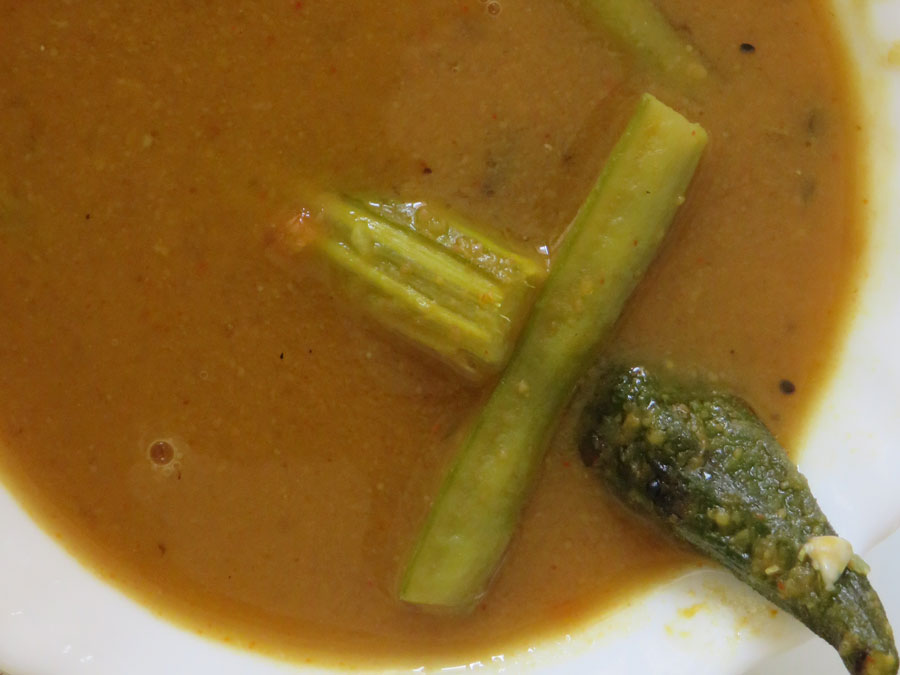 Ingredients
3 – 4 large tablespoons filled with Gram flour (besan)

2 large potatoes, cut into large pieces

6 – 8 ladies fingers (okra)

Few cluster beans

3-4 green chillies, slit in halves

5-6 curry leaves

Few methi seeds

1inch piece of Ginger

3-4 tablespoons of oil

Tamarind soaked in water

4 cups of water

Salt to taste
Instructions
1
Pour the oil in a pressure cooker and heat that up.
2
Add the green chillies, ginger and methi seeds. Sauté for a minute
3
Add the curry leaves and let them crackle
4
Add the gram flour and start mixing and stirring almost continuously so that the entire gram flour is cooked properly and does not burn out
5
The gram flour starts turning dark slowly.
6
One has to identify the right colour required and reduce the heat and pour the water in immediately.
7
Stir the gram flour into the water to form a paste and then add the vegetables to it, except the Okra.
8
Add the salt in and let the curry come to a boil and simmer with the vegetables for 10-15 mins. Or you could close the lid of the cooker and wait for 3-4 whistles. If you wish to pressure cook then complete step 9 and then put the lid on.
9
Add the soaked tamarind water into the curry and bring to a boil and again let it simmer for 3-4 mins.
10
In the meanwhile, Slit and shallow fry the okra in a separate pan as crisp as you like it. I cook it just enough till the Okra changes colour slightly.
11
Once the simmering is completed, add the okra in and simmer again for a few mins.
12
Your curry is ready to serve. You could grab a spoon and taste it and check the tanginess, else you could squeeze some lemon after the curry is served.
Notes
This curry does tend to thicken while its simmering. So you could adjust the water quantity as required.

This curry goes well with plain steamed rice, tukpatata, some boiled whole moong daal and sweet boondi.